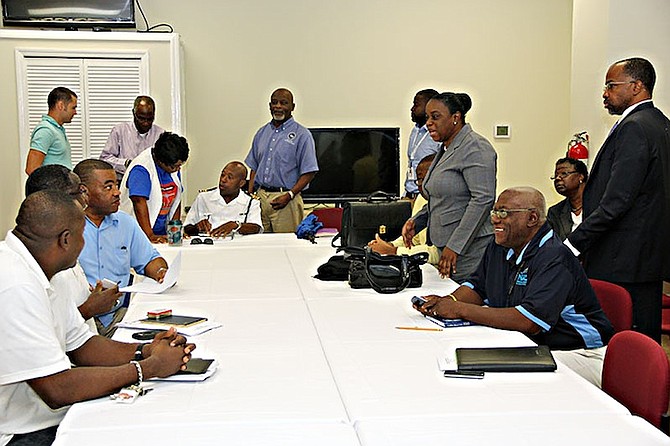 By RICARDO WELLS
Tribune Staff Reporter
rwells@tribunemedia.net
ALTHOUGH the 2015 Atlantic Hurricane Season is not expected to be as active as past seasons, officials from the National Emergency Management Agency (NEMA) have warned that residents should still "carry out all necessary preparations" as the potential of storms making landfall still exist.
Captain Stephen Russell, director of NEMA, yesterday endorsed predictions made by the National Oceanic and Atmospheric Administration's (NOAA) 2015 Atlantic Hurricane Season Outlook, which predicts six to 11 named storms this season.
The hurricane season began yesterday and runs until November 30.
The outlook indicated that three to six of those storms could reach hurricane intensity, with at least two becoming major hurricanes, category three or higher.
Mr Russell said residents should "begin the process" of preparing their homes for the possibility that a storm could make landfall. He said persons should use this time as an opportunity to assess their homes, particularly roofs, doors, windows and shutters.
"General preparation, this is the time to address all issues that may exist," said Capt Russell. "They should start to check their roofs, figure out if there are leaks or any other issues related to the roof. This is the time for persons to check their shutters, window and doors. If you live in a low-lying area, you should know where the nearest shelter is.
"Basic supplies, now is the time to start stocking up. You should also begin to build a basic hurricane kit," added Capt Russell.
The National Hurricane Centre released its list of names for potential storms earlier this year. For 2015, the names are Ana, Bill, Claudette, Danny, Erika, Fred, Grace, Henri, Ida, Joaquin, Kate, Larry, Mindy, Nicholas, Odette, Peter, Rose, Sam, Teresa, Victor and Wanda.
Tropical Storm Ana formed nearly a month before the Atlantic Hurricane season began. It was centred about 180 miles south-southeast of Myrtle Beach, South Carolina, resulting in scattered thunderstorms around the area.
The official NOAA 2015 Atlantic Hurricane Season Outlook has suggested a 70 per cent chance of a below normal season, a 20 per cent chance of a near normal season and a 10 per cent chance of an above normal season.
Last year's Atlantic Hurricane season produced nine tropical storms, eight of which developed into named storms, six hurricanes and two major storms, category three or higher. Of last year's storms, Arthur, Bertha and Cristobal were the only three to affect The Bahamas, but had minimal impact. 2014 marked the fewest named storms in a season since 1997.
NEMA opened National Disaster Preparedness Month today with a disaster conference in New Providence for the Southern Bahamas, which runs until Thursday. The islands involved are Acklins and Long Cay, Cat Island, Crooked Island, Inagua, Mayaguana, San Salvador and Rum Cay.
On Sunday, NEMA held a church service at the East Street Gospel Chapel. Minister of State in the Ministry of Works and Urban Development, Arnold Forbes, spoke of the need for preparation planning while Rev Bradley King, pastor of the church and a member of the National Disaster Committee delivered the sermon.