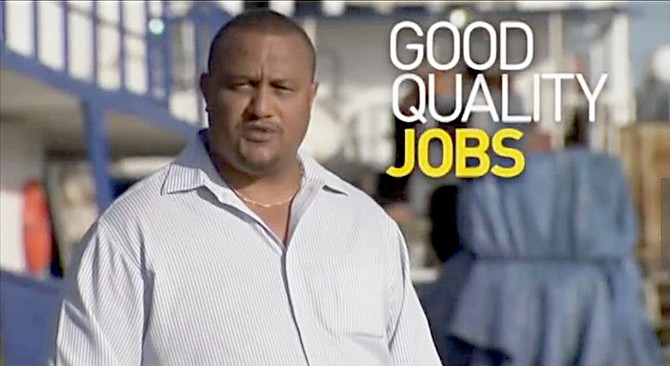 Reader poll
Yes, I think he will win his seat. 57%
No, I do not think he will win his seat. 43%
201 total votes.
By RASHAD ROLLE
Tribune Staff Reporter
rrolle@tribunemedia.net
MARCO City MP Greg Moss squandered a "golden opportunity for public service," PLP Chairman Bradley Roberts said yesterday in reaction to the MP's surprise decision to resign from the party.
Mr Roberts said that Prime Minister Perry Christie invited Mr Moss to join the Cabinet after the last general election, but claimed that Mr Moss "pouted, complained and preened publicly" when his conditions were not met.
"Gregory Moss was one such young Bahamian who was given the opportunity and privilege for public service and more so, the prime minister recognised his talents," Mr Roberts said in a press statement.
"As the chairman of the National Insurance Board (NIB), Mr Moss was publicly insubordinate to the nation's chief and was relieved of his duties. Even within the context of a democratic culture, an organisation can have only one leader or boss at a time and the tail cannot wag the proverbial dog."
On Monday night, as he wrapped up his contribution to the budget debate, Mr Moss disclosed his plans to resign from the PLP with immediate effect. His resignation letter was sent to Mr Roberts, Mr Christie and House Speaker Dr Kendal Major yesterday.
In that resignation letter, Mr Moss said he has concluded that as the PLP heads into its fourth year in this term as the governing party, he no longer believes his values for the country are shared by the party's leadership.
Those goals, he said, include enacting legislation to advance the interests of Bahamians in relation to mortgage foreclosure relief, equitable taxation reform, interest rate reduction, electrical rate reductions, meaningful consumer protection legislation, gasoline tax reduction and improved minimum wage legislation, among others.
Mr Moss said while he continues to subscribe to the political philosophy of former Prime Minister Sir Lynden Pindling, the PLP no longer has the philosophical underpinning that prompted its growth.
Meanwhile Mr Roberts, in his statement, thanked Mr Moss for his service and wished him well in his future actions. The PLP, he said, is like any family or organisation where differences are either reconciled or members part ways.
"Such is life in the cut and thrust of not only party politics but life in any organisation," he said.
Meanwhile, FNM Leader Dr Hubert Minnis applauded Mr Moss' decision to leave the PLP.
"Moss obviously has a conscience and a conviction and what he does shows democracy. He cannot sit by and watch what the PLP has done and has not delivered. His conscience would not allow him to be a part of continual broken promises and lack of leadership. Those 'new generation' of leaders seem totally unhappy. Look at Moss, (Dr Andre) Rollins and (Renward) Wells. The PLP is a party of slogans and promises and the new generation fell for it and their eyes have been opened. I applaud Moss for what he has done."
As to whether the FNM would accept Mr Moss into its fold if he chose to join the official opposition, Dr Minnis said: "We are open to discussing the way forward with any Bahamian who wishes for that which is better than this PLP government."
However, Mr Moss has said that he has no intention of joining the FNM, but will remain an independent representative for Marco City.