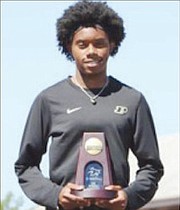 By RENALDO DORSETT
Sports Reporter
rdorsett@tribunemedia.net
SEVERAL Bahamian student athletes closed out their collegiate seasons at the NCAA Outdoor Track and Field Championships highlighted by All-American finishes and a new national record.
Latario Collie-Minns of the Texas A&M Aggies finished second in the men's triple jump with a leap of 17.01m and Devynne Charlton set a new national record in the 100m hurdles in 13.00s at the meet hosted at Hayward Field in Eugene, Oregon.
He opened with a wind-aided 16.44m and improved with a 16.53m, 16.87m and finally the 17.01m which placed him third on the school's all time performance list.
"Having the competition on two runways threw me off a little bit," he told the Aggies athletic website 12thman.com. "My jumps today were okay. I started off a little rough, so I thought about indoor nationals (where he fouled four of six attempts) and knew I had to perform tonight. I'm pleased with my first year in Division I at Texas A&M and contributing points to the team."
He finished second to Florida's Marquis Dendy who won his second consecutive NCAA championship with a leap of 17.71m.
"It's great to see Latario jump that far in this kind of competition," said Aggies head coach Pat Henry. "He held up his end of the bargain and did a great job today."
Along with teammate Shavez Hart, he helped the Aggies to a sixth place finish with a total of 27 points. The senior sprinter finished 10th overall in the 200m in 20.32s and 18th overall in the 100m in a time of 10.24s.
Alongside his teammates in the 4x100m, Hart ran the second leg in the team's 38.77s fifth overall finish.
Teray Smith, a sophomore at Auburn University, also missed out on the opportunity to advance in the 200m. He finished just behind Hart, 11th overall in 20.34s.
Tadashi Pinder, a junior at Alabama, was a member of the 4x100m team that finished eighth in the final in 39.63.
The women's side of the event was highlighted by the sprint tandem at Purdue University, Devynne Charlton and Carmeisha Cox.
Charlton set a new school and national record in the 100m hurdles. She finished seventh in the final in a time of 13.00s which set a new Purdue and Bahamian national record in the process.
She also surpassed the qualifying standard for the upcoming IAAF World Championships in Beijing, China.
Charlton and Cox were both members of the 4x100m relay team which became the first in school history to make an NCAA final in the event. They finished sixth in 44.55s and earned First Team All-America Honours.
Cox was also a member of the 4x400m team which made Purdue history of their own. They finished fourth overall in a time of 3:31.98, the second-best time in school history behind their own school record from regionals.
It was the first time the Purdue women earned First Team All-America honours in the 4x400m relay.
The Bahamian sophomore duo are two reasons the Purdue coaching staff is looking forward to its future.
"I am grateful for how far these young people have come," Boilermakers head coach Lonnie Greene said. "We were on a huge stage and these kids competed, and that speaks well to our institution and the work we have put in. These young men and women competed all year long and the beautiful thing is that we bring everyone back. We just need everyone to spin up now next season and we have big things ahead."
Redshirt junior Tynia Gaither suffered an injured hamstring at the regional preliminaries and was unable to compete in the three events she earned qualification - the 100m, 200m and 4x100m relay.