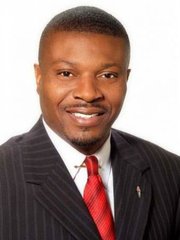 By DENISE MAYCOCK
Tribune Freeport Reporter
dmaycock@tribunemedia.net
FORMER State Minister for Finance Zhivargo Laing believes that the country should look at its immigration policy as a means of bringing new economic injection in The Bahamas.
Mr Laing, a Bahamian economist, told The Tribune the immigration policy needs to be liberalised so that international persons can be attracted to reside and visit on a longer-term basis.
"This is one of the things that we could certainly look at in The Bahamas – a change in our approach to immigration can be helpful," he said.

"Unless there is a liberalisation of the immigration policy… we can expect, without some significant foreign investment taking place, this stagnation in the Grand Bahama economy for a very long time."
The Bahamas, he said, is still among the top five places in the world that people dream of living and visiting.
Mr Laing said The Bahamas is still a "dream spot," and there are people with the means, with high income and net worth, and retired people with disposable income who might find living in Grand Bahama a wonderful place, but the time it takes to approve permanent resident applications is too long.
"Persons applying to be a permanent resident and who have put in application wait one, two, three… and seven, not months but years before they can get a yes."
"So when I say changing the immigration policy, it is to those kinds of people whose profession, income, and net worth status can be defined that you say to those people send me your application and I guarantee you will have an answer, yes or no. And that is all they want to know; if they can get that kind of feedback the word goes out."
Mr Laing thinks that one of the things that is least acknowledged about The Bahamas that is affecting the economic situation, is that the country's population is very small.
In Grand Bahama, he said of the population of about 50,000, half are under 25 years of age.
"They are basically out of the economic production stream, they are more takers out of the economy because they have to be cared for in large numbers. So if you take them out, the population is left with 25,000 people, and of that right now the unemployment rate is of 15 per cent and they can't contribute to the economy," he explained.
He estimates that of the remaining 85 per cent, as many as 70 per cent have no real disposable income because of financial commitments, obligations and debt.
"So you are left within the permanent population, maybe 10,000 that represent a base of any discretionary available income to be spent," he said.
Mr Laing said that is why there are so many businesses struggling because they are trying to service that small base of people.
"So unless your non-permanent population is swelling or growing, you really have a limited means of seeing new economic impetus into this economy," he said.

The former Cabinet minister indicated that no new income will be injected into the economy unless some outside force brings new capital injection, and builds new businesses requiring new employment.
"Our small population has got to scale up if we intend to begin to see any increase in local economic activity," he said.
"Unless you have a larger number of people with disposable income, you cannot see any real growth in economy," Mr Laing said.
"So the question for us is, where is that larger population with disposable income going to come from? It is not going to be grown internally from Grand Bahama or from the other islands. What we are seeing is the reverse, people are leaving Grand Bahama to go to Nassau and Abaco to where the economy they believe exists," he said.