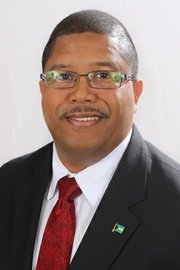 By NICO SCAVELLA
Tribune Staff Reporter
nscavella@tribunemedia.net
THE government's decision to commission an independent report into Urban Renewal's Small Homes Repairs project is an attempt to "interfere with" and "sabotage" the work of the Public Accounts Committee, FNM Deputy Leader Peter Turnquest said yesterday.
Mr Turnquest, who also sits on the PAC, said it is "highly suspicious and irregular" for the government "to be commissioning an internal investigation in the middle of a PAC review".
Last week, Works Minister Philip "Brave" Davis said the government had commissioned a report from a consultancy firm, citing "areas of discrepancy" in Auditor General Terrance Bastian's previous scathing report on Urban Renewal 2.0.
Speaking with The Tribune yesterday, however, Mr Turnquest questioned the government's motives.
"It's highly suspicious and irregular for them to be commissioning an internal investigation in the middle of a Public Accounts Committee review," he said. "This reminds me of the Rubis matter. (There was a) call for a select committee to look into what happened into Rubis, and all of a sudden the government decides that they're going to commission their own study with (retired) Justice Joseph Strachan to try and I can only assume to distract or come up with their own designed result.
"It is obvious that they're trying to diffuse the issue and take it out of the hands of the Public Accounts Committee and to give the impression to the public that they have investigated therefore there's no need for the PAC to look at it. It is a clear interference – in my opinion – into the work of the Public Accounts Committee and attempt to sabotage it. And two, it is also obvious that they're trying to come up with their own solutions, their own results."
Mr Bastian's scathing report found a litany of concerns and weaknesses related to the Small Home Repairs project's management and expenditure.
One example of this was the audit revealing that 11 contractors were paid more than $170,000 for small home repairs that were "not completed or done."
Citing "areas of discrepancy" in Mr Bastian's report, however, Mr Davis revealed last week that the government has commissioned an independent report into the programme. According to Mr Davis, it was conducted by a consultancy firm with expertise in the field of civil, structural, environmental engineering; project management and quantity surveying.
The revelation was contained in Mr Davis' planned contribution to the 2015-2016 budget debate. His speech was released to the media last Wednesday night, however Mr Davis at the time moved the question for an abrupt end to the debate instead of giving his speech.
However, in his circulated communication, he pledged to table both reports at some point in the House of Assembly.
Mr Turnquest said yesterday: "The Public Accounts Committee, as they are well aware, is in the middle of the investigation. If they are concerned about the Small Home Repairs, one would think that they would cooperate with the Public Accounts Committee, and compel all those individuals involved to appear before the committee as an independent body, to review and give whatever evidence or information that they have. So at the end of the day you would have a factual, objective analysis of what has happened at the Small Homes Repair (programme) and come up with some independent, objective recommendations to ensure that the programme is put on the correct path.
"Again, from where I sit, it appears to me that they're trying to interfere with the process, and the only reason to interfere with that process is to give a particular view, to spin a certain perception that they are on top of this, that it's nothing there to be concerned about."
In early April, Urban Renewal Co-chairs Cynthia "Mother" Pratt and Algernon Allen refused to appear before a scheduled hearing with the PAC concerning the specifics of the report. Their refusal was ultimately supported by House Speaker Dr Kendal Major, who later ordered the PAC to "stay its hand" regarding the probe until the audit had been tabled in Parliament.
Last week, Mr Davis insisted that the government was getting value for the money spent to repair more than 600 homes throughout the capital, pointing to the economic boost in urban communities.
Mr Davis said some 400 contractors have been engaged to repair houses and have employed over 1,000 trade persons.
Mr Davis said the Urban Renewal Commission had been given a new mandate to provide basic essential indoor plumbing to any home slated for repair.
He added that the government was very satisfied that the programme had realised its objectives.