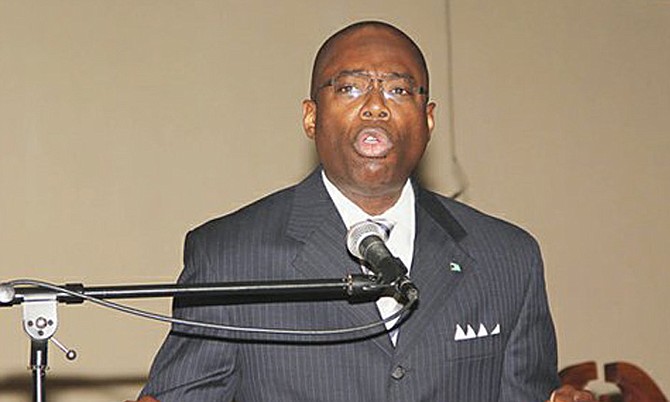 By KHRISNA VIRGIL
Tribune Staff Reporter
kvirgil@tribunemedia.net
HOUSE Speaker Dr Kendal Major moved to clarify comments he made last week in Parliament that insinuated that he wanted to be replaced, saying in that moment he had reached a point where enough was enough.
While admitting that his comments during the heated House session fuelled speculation that he was considering leaving the post, Dr Major said he will continue to serve and do his job, adding that in the future ". . .we will see what happens."
He also responded to criticism of his recent ruling regarding Dr Andre Rollins from Deputy Prime Minister Philip "Brave" Davis and Minister of Labour Shane Gibson, saying the remarks were "unfortunate", "inappropriate" and will bring "ill repute" to his dignity and post.
"My question in response would be, does the House have the confidence in the chair? Then the chair should be accorded every opportunity and respect to do its work. That is how I would prefer to deal with it," Dr Major said when contacted by The Tribune.
Asked if he believed that parliamentarians respected him as the Speaker, he said generally he thought so.
"I think overall the respect is there. However, you have watched and you see from time to time where, depending on where the decision falls, the chair is often challenged.
"The chair being challenged is one thing, but to publicly utter that the chair was wrong – it is unfortunate, inappropriate and it brings ill repute to the dignity of not only myself but the post of Speaker of the House."
Concerning speculation that he was considering quitting as House Speaker, Dr Major said: "We all are subject to certain contextual situations and we all have a point in time when enough is enough. I will continue to my job and moving forward, we will see (what happens)."
This is the first time Dr Major has spoken publicly about the issue since he came under fire from senior MPs of his own party when he allowed Dr Rollins to make his budget contribution.
The drama began last Wednesday when Mr Davis put a vote to the floor to abruptly close the Budget debate. This would have cut off all possibility of Dr Rollins being able to make his contribution to the debate.
At first it appeared that Mr Davis was about to make a speech. Dr Rollins said he did not stand earlier because he did not want to disrespect the more senior member.
However, Mr Davis said he was not going to speak and that it was within his right to move for the vote to close the debate because "all of the minority members of the House of Assembly have spoken" and Dr Rollins had intentionally missed his opportunity to speak.
Dr Rollins then accused the government of attempting to stifle freedom of speech and said that they were all afraid of what he had to say.
After about 20 minutes of back and forth with several PLP MPs rising to their feet citing parliamentary rules to block Dr Rollins' speech, Dr Major decided to take a recess to make a decision.
Nearly 30 minutes later, Dr Major allowed Dr Rollins to make his contribution saying, "his heart would not let him stop a member from speaking."
During his speech, Dr Rollins attacked the government on many fronts, ending by quitting the governing party.
The next day, Mr Davis criticised Speaker Dr Major's ruling telling reporters he hoped future Speakers would not follow the precedent that the Speaker had just set.
Mr Davis added that Dr Major had allowed his emotions to influence his decision rather than the rules of the House of Assembly. Labour and National Insurance Minister Shane Gibson has also said the Speaker was "obviously wrong" when he made the ruling.
Last week, Tall Pines MP Leslie Miller said he was worried that the Speaker was going to quit his post over the uproar in the House. He said during his 28-year political run, he had never seen so many attempts to undermine the Speaker or a Speaker hinting at the government possibly replacing him.