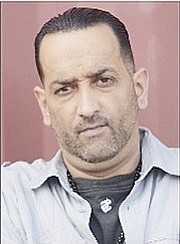 By Inigo 'Naughty' Zenicazelaya
FIRST things first - Golden State in 6! I told you so again! "Naughtydamus" lives! Now that we've got that important announcement out of the way, let's get down to this week's business.
I know the title alone of this week's column has most of the "Broninites" or "Bronsexuals" (whichever category they fall in) seething ... and I love it!
You know what they say about the "truth" - it hurts. This week's contribution is going to be very painful for some, if not all, LeBron James fans.
The "Broninites" will finally have to deal with what they've been in denial about all these years. They've hitched their wagons to a "loser", a player who can't win the big one!
Well, at least four of the six times he's been, and if it wasn't for a collective "Brain Fart" from the Spurs and a "Miracle Three" from Ray Allen in game 6 of the 2013 NBA Finals and we are having this conversation two years earlier.
NAUGHTY'S NBA TOP 10
Players (and titles won)
1 Michael Jordan (6)
2 Kareem Abdul Jabbar (6)
3 Kobe Bryant (5)
4 Magic Johnson (4)
5 Tim Duncan (4)
6 Shaquille O'Neal (4)
7 Larry Bird (3)
8 Dwayne Wade (3)
9 Scottie Pippen (6)
10 Hakeem Olajuwon (2)
LeBron is eerily similar to another "legend", a man like LeBron who, at one point, dominated the league and was considered the "Best Player" in the league, so much so they made his silhouette the official NBA logo. Yes my beloved Laker legend, Jerry West.
You see "Zeek from Cabin Creek", as they called West, was a beast in his day, one of the best guards ever to lace them up and perhaps still the best pure shooter ever, even over Bird, Allen and Reggie Miller.
However for all his stats and individual achievements Jerry West was 1-9 in the Finals. So yes, Jerry was a legendary player. He just wasn't a legendary winner.
Remind you of someone in today's NBA with royalty monikers attached?
LeBron's career stats are undeniable, just look at career playoffs and regular season stats here.
It would be lunacy for me to say that LeBron hasn't ascended to "Best Player On The Planet" status, just like for their moments in time Jordan, Bryant, Magic, Duncan, O'Neal, Bird and "Dr J" carried the same title.
The difference between those greats and LeBron - for one - is none of those greats had to say it themselves like LeBron did. Others said it for them.
Also the second glaring difference is they are all multiple NBA champions and all have winning records in the Finals (except for Dr J).
Can you start to see the sheep being separated from the goats or should I say GOATs (as in Greatest Of All Time.)
Now that we've established that LeBron's stats are undeniable and he has arisen to be "The Best Player On The Planet" status at this very moment, allow me now to show you why his legacy will be that of a loser and he can't be mentioned in the same breath as Jordan, Bryant, Magic, Duncan, O'Neal and Bird.
They had something in common that LeBron lacks - "Killer Instinct." Jordan, Kobe, Magic and Bird in particular were stone-faced "killers" when it came time to win. They would reach into their opponents chest cavities, extract their hearts, show it to them and say, "This is why I'm going to win!"
They imposed their Alpha Male wills on their teammates and opponents alike on their way to championship glory.
The Grand Master of this, in my opinion, was Jordan, with Kobe a very close second. An excellent Robin to Jordan's Batman.
All of the "Greats" are "selfish". Jordan didn't allow his teammates' weakness to get the better of them; he compensated for their shortcomings all while highlighting their strengths.
Kobe's indomitable spirit and unrivalled work ethic have allowed him to lead by example and will his teams to championships.
Magic's "selfishness" was his "selflessness". He could have had monster numbers nightly but preferred to make all his teammates better. But when he had to put them on his back and carry them to victory he did. There is no better example that the 1980 Finals, as a rookie Magic scores 42 points, grabs 12 rebounds and dishes out seven assists playing centre instead of point guard for an injured Kareem Abdul Jabbar. Needless to say, Magic was named series MVP.
Interesting note, with that will and unselfish nature, it's no wonder Magic went to nine Finals in his first 12 seasons.
Larry Bird, similarly to Magic, loved to make his teammates better but when "The Hick from French Lick" had to prove his worth and equality "The Whiteboy" would run "whitehot", putting on shooting and scoring displays that left all walks, races and creeds mesmerised! Bird proved that "white men can't jump but will shoot the lights out" and out hustle you, frustrating and beating you in the process.
The testimony to their "greatness" is they earned it from each other by playing against and beating each other. LeBron's selfishness is a different breed of animal. Maybe adopted during the tons of media praise and unnecessary hype heaped on him by a certain four-letter network in Bristol, Ct. LeBron is the wrong kind of selfish: his selfishness doesn't benefit anyone else but LeBron.
None of the above "greats" decided to pack up shop and leave the city that drafted them, to join a "Dream Team" in sunny south Florida to win championships, championships that you couldn't win before without major help.
In retrospect, that collaboration wasn't overly successful, far from the not six, not seven, not eight titles that were so cockily promised, only going a mediocre 2-2 in four Finals appearances together.
Another instance of LeBron's "selfishness" cost his team a title instead of helping it win one. In 2007 versus the Spurs in his first trip to the Finals, LeBron - after getting wind that his mother was dating his teammate, Delonte West - LeBron checked out opting to pass the ball, get his teammates involved. He was passive, lacking any emotion the last two games. Of course the Spurs went on to win the series and West was traded.
How "selfish" denying your mother her happiness and your teammates your best effort in pursuing a championship.
The mere fact that LeBron is 2-4 in the Finals bars him from admission into the "Greatest Of All Time" conversation. Yes, his body of work is incomplete, more chapters to be written I'm sure and more individual stats to log, but up until this point taking all things in to consideration LeBron is still not in the same company as the "Greats."
Winning championships is a huge part of the criteria when being considered as "The Best Player On The Planet". It's not just the stats and athletic ability on the court and endorsement deals off it. Where you a winner or not is all that matters! It doesn't mean a thing if you don't have a ring (or more for that matter.)
So taking into consideration career stats, individual awards and championships (must have won at least two NBA titles to qualify) see the chart above for my top 10 of all time.
Seeing how there is still wide debate on the level of competition in the NBA during the '50s and '60s I've excluded Bill Russell and other Celtic greats from this list to make it as objective as I can. I think what people fail to realise is that LeBron is a rare unique talent to be enjoyed, respected and appreciated on the court. We will all miss him for one reason or another when he retires.
He will never be Jordan, or even Kobe for that matter, but he should be remembered for what he is - the "Dr J"of our era, highlights for years, stats piled high but very few championships, despite numerous trips to the Finals. There's no shame in that, it is what it is!
I know "a hit" is being taken out on me by the "Broninites" as you read this so let's compromise - "LeBron is the Best Player on the planet, just not the Best Winner on the Planet."
Until next week "If it's important to you, you will find a way ... If not you will find an excuse."
ONE-ON-ONE WITH THE NAUGHTY ONE
THIS week's question comes from Mischief and Mayhem listener and Tribune reader Euvunka Paul.
Q. "Naughty" I heard the tail end of a break on your show comparing the NBA to Bahamian politics. Can you please print it in your weekly Tribune column for those of us who missed it?
A. No problem Euvunka. Actually it was the six degrees of separation between the NBA and Bahamian politics. Here goes:
They say that Sir Lynden Pindling was our greatest PM ever, in NBA terms that is the equivalent to Michael Jordan!
It is known far and wide Sir Lynden considered former PM Hubert Ingraham "his most illustrious protege ever".
Michael Jordan was quoted as saying "Kobe comes closest to me by far, and he puts in the dedication, time and work to achieve greatness".
So that would constitute Hubert Ingraham being on par with Kobe, learned from and achieved greatness.
Soooooo that means our present PM Mr Christie is mirrored to LeBron - numerous opportunities for greatness squandered!
• Naughty presents 'Mischief and Mayhem in da AM' on KISS FM 96.1 from 6am to 10am, Monday to Friday. Comments and questions to naughty@tribunemedia.net