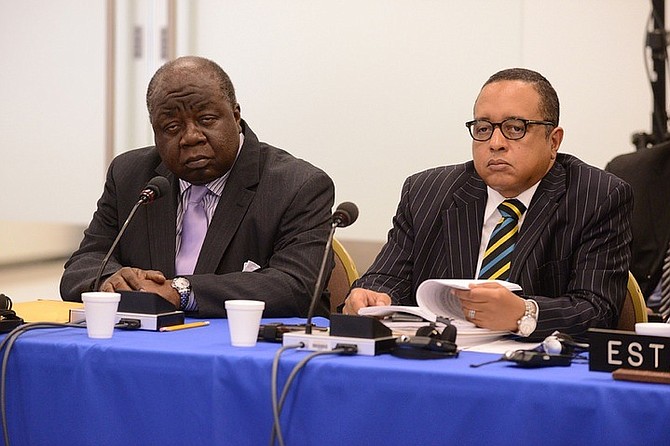 By AVA TURNQUEST
TribuneChief Reporter
aturnquest@tribunemedia.net
State Minister of Legal Affairs Damien Gomez hit out at "bizarre and outlandish" allegations against the government's immigration policy, at a hearing in Washington, DC, on Friday, while the Inter-American Commission of Human Rights (IACHR) said detention of migrants should be a measure of last resort.
The four member IACHR panel of human rights experts sought answers on matters concerning raids, deportations and the related due process; overcrowding at the detention facility; access to the facility for consular support, legal aid, and human rights monitoring; allegations of physical and verbal abuse; identification of non-nationals by officials; the detention of migrant children; and the issue of statelessness.
The panel also raised concerns that the government's new policy did not yet have a legal basis, and asked whether officials would be willing to consult with the agency on proposed amendments to the Immigration Act that are currently before parliament.
The panel consisted of: Rose-Marie Antoine, IACHR Chair, and commissioners Tracy Robinson, Felipe González, and José de Jesús Orozco Henríquez.
The thematic hearing was requested by local and international human rights organizations: Robert F Kennedy Human Rights, Caribbean Institute for Human Rights, and the Grand Bahama Human Rights Association. Pierre Parisien of the Haitian Organization for the Prevention of HIV/AIDS and STDS spoke to the concerns of the migrant community.
Representing the government, Minister of Legal Affairs Damien Gomez restated its stance against "bizarre and outlandish" allegations that have provoked public "outrage and contempt".
He referenced public comments made by local petitioners that characterised the government's actions concerning the enforcement of its immigration policy as "ethnic cleansing".
Mr Gomez said: "The false, baseless, and malicious allegations made against the Bahamas and its people is deserving of a response."
"We are completely awestruck that these sanitary changes to law of immigration are being questioned, when all that we are seeking to do is to ensure that these persons are enable to live regular, normal lives.
Mr Gomez said: "When laws are passed, persons will be able to open a bank account, participate in a formal economy and yet we are here and we are being criticised for attempting to ameliorate the condition of the very people the petitioners are claiming to represent."
However, Ms Antoine advised Mr Gomez that the commission had not heard, nor had been privy to such comments.
"We have not been swayed by outlandish comments," she said.
"We have responded and agreed to a hearing out of a legitimate concern to interrogate an immigration situation which we believe may have important impact on human rights, that is the only concern here today."
On November 1, the government introduced a wider immigration policy that, among other things, required every non-Bahamian living in the country to have a passport of their nationality with proof of their status to live and work in the Bahamas.
The government tabled the highly anticipated Immigration (Amendment) Bill 2015 last month. The bill, if passed, will allow officials to grant resident belonger permits; establish a sector policy that outlines the exercise of ministerial discretion as it relates to residence and employment, create an Immigration Reserve and establish a legal framework for the Carmichael Road Detention Centre.
Wade McMullen, RFK Human Rights Managing Attorney, said: "It remains unclear what procedures have been adopted [by Bahamas government] to ensure a fair examination of all [belonger permit] applications, as there has been no publication of the new rules nor sufficient public education to raise awareness about the new requirements.
"The raids have resulted in overcrowded detention conditions that amount to cruel, inhuman, and degrading treatment," he said.
"Detainees are regularly denied access to legal counsel, judicial process, and international protection regimes; they face summary deportations, and many risk becoming stateless."
Mr McMullen added that the group was thankful for the opportunity to engage the country in dialogue focused on finding a solution to protect human rights given the rise of hostility to migrants - in particular persons of Haitian descent - in the region.
Diego Alcalá, deputy director Caribbean Institute for Human Rights, pointed out that the risk of detention, deportation, and statelessness was intensified by the country's nationality laws, which places limitations based on gender to the transfer of citizenship onto their children. Mr Alcalá explained that government statements have indicated that enforcement exercises will be conducted in areas known to be largely populated by Haitian migrants, despite its defence that its policy did not target specific groups.
Mr Alcalá referenced a post made on FaceBook by Oswald Brown, Press cultural affairs and information manager of the Embassy of the Bahamas in Washington, as worrisome, given the protections afforded to petitioners under international law.
In the post, Mr Brown wrote that he intended to use every resource he had to confirm that the Grand Bahama Human Rights Association had made fraudulent claims about their meeting with the members of the United States Senate, and to report the fraud for possible criminal charges.
During his intervention, Mr Gomez explained that the "bizarre allegations" made against the Bahamas may have "coloured" the public statements of private citizens, adding that the government was prepared to defend the free speech of either party.
During her remarks, Ms Robinson cautioned that allegations of threats or stigmatisation of human rights defenders should be taken seriously by the state.
Mr Parisien charged that members of the Haitian community were living in fear of abuse from immigration officials daily. Fears range from physical abuse, property damage, the well-being and education of their children, detention and deportation, he said. Mr Parisien explained that the overcrowded dormitories at the Carmichael Road Detention Centre were sites of extreme suffering, where persons were subjected to physical, verbal and psychological abuse with no clean water or proper diet. He alleged that detainees did not have access to legal counsel or communication with their families.
He claimed that members of the Haitian community have also expressed fear for his wellbeing given his participation in yesterday's hearing.
"I stand here not as a Bahamian, American nor a Haitian," Mr Parisien said, "but as a humanitarian on behalf of humanity, not for any country. It only happened that the largest concerned group is the Haitian nationals and Bahamians of Haitian descent.
He added: "But every single migrant is affected by these governmental policies."
In his response, Mr Gomez underscored the country's established commitment to human rights in colonial and postcolonial history.
He pointed to the open invitation of the IACHR to conduct an onsite visit as evidence of the government's transparent adherence to the democratic rule of law, adding that the government would present its formal written response to concerns raised within a short period of time.
Mr Gomez also extended a personal invitation for commissioners to forge relationships with the academic community at the College of the Bahamas as it transitions to university status.
"The deepening of regional sensitivity to human rights and the understanding thereof depends in large measure upon a viable intellectual debate across cultures and borders," he said.
During his presentation, Mr Gomez displayed pictures of a safe house for minors and their mothers, and a new $1 million dormitory at the Carmichael Road Detention Center.
However, commissioners pointed out that the pictures did not alleviate concerns related to overcrowding and the large volume of detainees, and the detention of children.
Mr Gomez stated that overcrowding at the Carmichael Road Dentention Center was situational, adding that 172 men and 16 women were in detention.
Last night, Minister of Foreign Affairs and Immigration Fred Mitchell confirmed that the dormitory buildings were "finished some time ago and more recently received their occupancy certificates".
The IACHR presentation was the second visit to the OAS by the Grand Bahama Human Rights Association on the issue of migrant human rights.
President Fred Smith said that it was regrettable that human rights conditions had worsened in the country since his organisation's first appearance before the international body in the late 1980s.
At the hearing, Ms Antoine said: "I am also a bit unclear as to where policy stops and law begins, both in terms of the new bill that is before parliament and what exactly it will change but also in relation to the new policy.
"The due process requirements when you are detained, what happens next? Do you have an appeal? We were told that the Immigration Act already has those provisions in it and the constitution. International law's view is that detention must be a last resort, my understanding is that it is not a last resort so perhaps you can tell us a bit more about that."
Ms Antoine also expressed concerns over criminal implications the new law may impose on humanitarian efforts to assist persons that are suspected illegal migrants, whose illegal status may have been determined without due process.