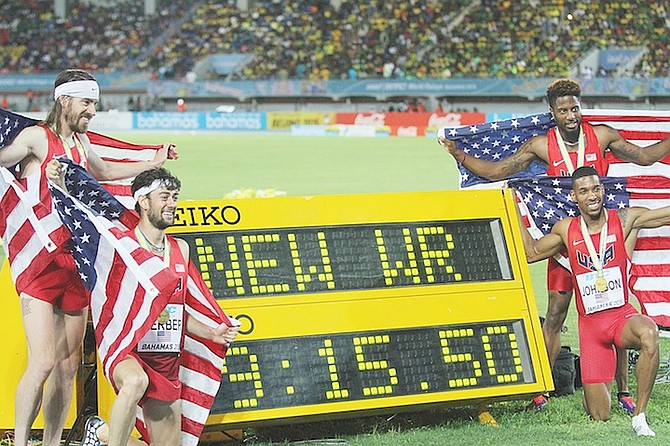 By RENALDO DORSETT
Sports Reporter
rdorsett@tribunemedia.net
IN 2014, it was Kenya that dominated the middle distance events. This time it would be the United States that would win gold in both events and set two new world records.
After watching the women on day one, the American men equalled the feat to highlight day two. The team of Kyle Merber, Brycen Spratling, Brandon Johnson and Ben Blankenship set a new world record mark of 9:15.50s in the distance medley relay. Merber opened with the 1,200m and a time of 2:53.56 for his split as the United States sat in second place.
"My goal was to keep it close. Coach Vin Lannanna told me, unless I could open it really big, to stay just behind the leader all the way. I did it, and my teammates, who all are in incredible shape, brought it home in first," he said.
The Americans were 0.06s faster than the old record pace of 9:15.56s set by Kenya at the Penn Relays in 2006.
Spratling, who ran in the 4x400m heats for the US, ran a 45.8 and said it was simply a matter of the quartet excecuting the race plan.
"I expected to get the baton in second, because we discussed that kind of a race plan. So my goal was to maintain it and stay as close as possible in second," he said. "Breaking the world record feels amazing. We wanted it, and after the girls did it yesterday, we had to come back and do the same."
It was a battle back and forth between the US and Kenya who eventually finished in second place in a time of 9:17.20s.
On the 800m leg, Kenyan 800m specialist sped past Johnson on the second exchange.
"No one has ever sprinted past me in the beginning of an 800m race before," he said. "It was hard for me to keep my composure and not start chasing him. I was just trying to come to the exchange in an optimal position to set Ben off for a strong race."
The final exchange provided even more drama as Blankenship beckoned for Kenya's Timothy Cheruiyot to get in front of him as the final 1,600m began. That move almost backfired as Cheruiyot got as far as 150m ahead of Blankenship early on the leg.
"Everyone is here to compete, and it was an intense race. It was scary, seeing the Kenyan take off in the beginning and get so far ahead," he said. "I had no idea about what kind of splits we were running creative to the world record pace. We broke the record by just 0.6 seconds so it is a good thing I didn't start celebrating early."
After trailing for about 1,300m, Blankenship took control and powered down the stretch for the win and the record.
"I gave it all and could not keep up with the American with 300m left to go," Cheruiyot said. "I am happy with second place."
Australia took the bronze medal in 9:21.62s.
Both record-breaking distance medley teams for the United States will receive $50,000 for their gold medal win and a world record bonus of $50,000.