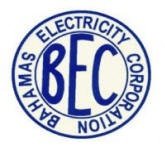 RESIDENTS in some areas of New Providence suffered through power cuts yesterday due to challenges with the Bahamas Electricity Corporation's generation network.
In a statement released yesterday, BEC said one of the larger units at its Blue Hills Power Station tripped shortly after 9am yesterday.
The units were eventually returned to service just after 4pm, BEC said.
"During that timeframe, some customers would have experienced periods of supply interruption.
The corporation apologises for the inconvenience that the generation shortfall and resulting outages may have caused its affected customers.
"Corporation officials maintain that they continue to make progress in improving generation capacity in New Providence. A unit presently offline due to planned maintenance should be returned to service shortly and it is envisaged that the 40 MW Aggreko temporary units will be installed within the next few weeks."
Early last week, New Providence had rolling blackouts for several days as BEC grappled with providing a steady power supply.
Last Thursday, nearly two years since the government initially announced plans to restructure BEC, it was announced that American company PowerSecure International was selected as the new management company. It was revealed that PowerSecure received a five-year contract to oversee generation and transmission/distribution.
The process is expected to lower electricity costs, increase energy security and reliability, and increase the country's competitiveness.