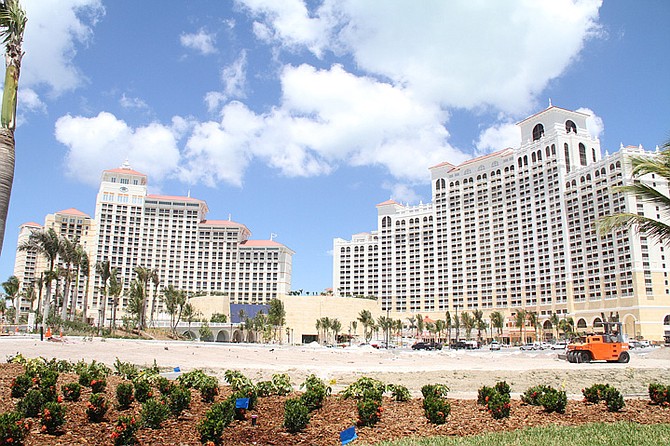 By KHRISNA VIRGIL
Tribune Staff Reporter
kvirgil@tribunemedia.net
TOURISM Minister Obie Wilchcombe urged Baha Mar executives to avoid publicly releasing any future potential opening dates for the $3.5 billion project, saying the focus has to now be on exceeding the expectations of the world in the face of the bad press sparked by repeated delays.
Mr Wilchcombe said while he is confident that Baha Mar "will be something spectacular", it is unfortunate that the buzz the resort should have created around the world has been overshadowed due to all of the problems developers have experienced.
He told The Tribune that although he had some indication of when Baha Mar is set to open, he was not in a position to make the information public.
For weeks, Prime Minister Perry Christie has acted as mediator between the developer, the Izmirlian family, and the project's main contractor, China Construction America (CCA).
The outcome of those meetings is not known, but yesterday Deputy Prime Minister Philip "Brave" Davis said he was hopeful that all of the issues causing a divide would be resolved soon.
Meanwhile Mr Wilchcombe said: "We are continuing to monitor this Baha Mar situation. The reality is the project and unfortunately this country will continue to get bad press until it opens.
"And let me tell you when it does open, it will have to be something outstanding, something that will be worth the wait and exceeds the expectations of everyone who has been waiting for this thing to get up and running. At the same time I know full well they have top brands and it will be outstanding because I have been there. I know the potential.
"So moving forward I think it would be wise to avoid announcing dates and just open it with a soft opening and do a major opening, pulling out all the stops later on down."
Mr Christie said last week that he "fervently" hoped to soon see a resolution to the dispute that has delayed the Baha Mar project.
Two weeks ago, Mr Christie told the press he was advised that the disputing parties were "very close to a settlement." At the time, he said the developer wanted to finalise a precise date for the project's completion while CCA wants instalment payments.
Tribune Business was the first to reveal last month how China Construction had "slowed down" its work rate on the Baha Mar project due to a dispute with the developer over how much it should have been paid in February.
The luxury resort is five months behind schedule and it is unclear when the Cable Beach development will fully open.
Pre-booked guests have criticised Baha Mar after claiming on a leading travel review website, TripAdvisor, they were told that all reservations until August 31 have been cancelled.
They have criticised hotel management for ruining their vacations. The guests also claim they were offered unsatisfactory alternative accommodations and not compensated enough for their losses.