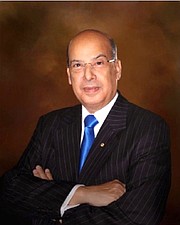 By AVA TURNQUEST
Tribune Chief Reporter
aturnquest@tribunemedia.net
THE government has reserved its position on endorsing a candidate for Commonwealth secretary general in a bid to secure a last-minute regional consensus ahead of the Commonwealth Heads of Government Meeting this month, Foreign Affairs Minister Fred Mitchell confirmed yesterday.
Mr Mitchell was responding to questions from The Tribune as regional leaders called for a consensus over a Caribbean candidate in the face of nominations from African countries Botswana and Tanzania.
"The Bahamas government has reserved its position until the meeting," Mr Mitchell said, "at which point the prime minister will seek to establish whether there can be a Caribbean consensus before the vote takes place."
The CHOGM will be held in Malta, a Mediterranean archipelagic nation, on November 27 to 29 when the vote will be taken. Prime Minister Christie with a delegation plans to attend the meeting. The incumbent Kamalesh Sharma, an Indian, is the fifth secretary general, and formerly served as the high commissioner for India in London.
According to Guardian Australia, the former Australian Liberal party leader has been put forward as a compromise candidate if there is no clear consensus between the Caribbean and African voting blocs.
In September, Mr Mitchell acknowledged that if no consensus is reached, the region would miss out on an opportunity to hold the top post that has not been filled by a Caribbean national in more than two decades.
Antigua and Barbuda has nominated diplomat Sir Ronald Sanders, its former high commissioner to the United Kingdom. Sir Ronald is the son-in-law of Sir Shridath "Sonny" Ramphal, of Guyana, the second Commonwealth secretary general and last Caribbean national to hold the post.
Dominica has nominated former UK Attorney General Baroness Scotland, a life peer in the House of Lords. Baroness Scotland - born in Dominica - has held numerous ministerial positions within the UK government, and is the first woman to hold the position of attorney general for England and Wales. She is an active member of the Privy Council. However, critics dispute that Dominica's nominee is truly a Caribbean candidate because she left Dominica with her family at the age of two to settle in England, where she was educated, married, and became a part of the British government.
Trinidad & Tobago had nominated academic and politician Dr Bhoendradatt Tewarie; however, the T&T Office of the Prime Minister formally announced that it had withdrawn Dr Tewarie's candidature on October 29, and endorsed Sir Ronald.
"After careful consideration of all pertinent aspects of the matter," the press statement read, "it is the decision of the government of Trinidad and Tobago to give its full support to the candidate of the government of Antigua and Barbuda, who we believe is best placed to execute the responsibilities of the Office of Secretary General in a manner that would be a tribute to the peoples of the Caribbean community.
"It is our hope that others in our region will in the limited time left, make common cause by unifying our region around Sir Ronald's candidature."
Dr Tewarie formally withdrew his candidacy in September, citing his obligations as a member of Parliament. Dr Tewarie was elected as representative for Trinidad's Caroni Central in the country's September 7 general election.
Mmasekgoa Masire Mwambawho, former deputy secretary general, has been nominated for the post by Botswana. Tanzania has nominated its foreign minister, Bernard Membe.
Yesterday, Sir Ronald addressed the 2015 Global Leadership Forum held at the Diplomat Centre.
He underscored the importance to seek out solutions to global terrorism that was not solely anchored by increased security but restoring mutual understanding and respect among all faith and communities.
"The Commonwealth will never be a powerful organisation and should not aim to be - it is not a military or economic grouping," he said.

"But it can be an association of considerable influence for good in its countries individually and collectively as well as for the international community, if its members accentuated the matters on which they find common ground on issues such as: fair and just trade; addressing terrorism; reform of the international financial system to boost economic development; promoting understanding and tolerance of the rights of minority communities; tackling climate change and global warming; looking to the needs of small and vulnerable states; strengthening democratic institutions for economic and social development as much as for political stability.
"This is not utopian; the Commonwealth was once such a player," Sir Ronald said. "It can be again."