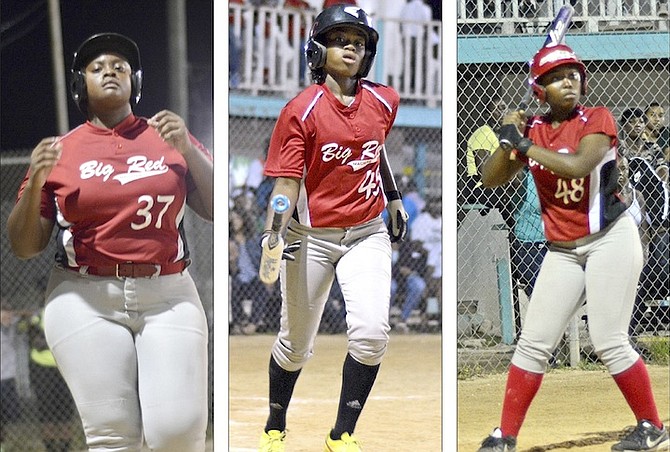 By RENALDO DORSETT
Sports Reporter
rdorsett@tribunemedia.net
FOR THE second consecutive year, the St Augustine's College 'Big Red Machine' completed a clean sweep of championship titles in all four divisions of the Bahamas Association of Independent Secondary Schools (BAISS) softball league.
The Big Red Machine clinched each of their championship series in two-game sweeps yesterday at the Freedom Farm Baseball League Complex in Yamacraw.
In the Senior Boys, SAC won 12-9 against the pennant-winning NCA Crusaders while the Senior Girls took a dominant 14-1 win over the Queen's College Comets.
The Big Red Machine Junior Boys won 12-5 against the Queen's College Comets to give new head coach Je'Vaughn Saunders his first title with the programme having assumed the helm from iconic coach John Todd.
"It feels great. Just being able to live up to the legacy that John Todd left is a pretty good feeling," Saunders said. "We didn't want to be complacent just because we beat them in the regular season, and we knew couldn't take them for granted. They beat NCA, the pennant winners, and we knew if we came slipping they were going to beat us so we just had to be very aggressive, be smart and we would win."
The Big Red Machine began their title defence this season with an opening day loss to the St Andrew's Hurricanes, but completely turned things around by the end of Saunders' debut season.
"It was a real experience, it was very different for me. Just getting to know the guys, knowing their characteristics and temperament, stuff like that. Basically it was a hard fought season and it was two months of hard work, focus and consistency," he said. "We lost that first game and we didn't let it get us down, we continued with the hard work and came out with the win."
After a close 7-4 win in game one, it was a more convincing performance in game two.
Team captain Jude Smith hit a single, walked twice and scored three runs.
"It feels amazing to be a champion. We worked hard all season, practices went really well and it paid off at the end of the season. Anytime we messed up, we stuck with it, worked even harder and stuck with it," Smith said.
"We had a shaky start to the season working with a new team, we worked with our pitchers and we had to go hard. It was a long journey, We didn't have much faith in our team, but as time went on we got better and built our confidence up. I'm just happy we were able to put things together and do what we had to do."
Also for the Big Red Machine, Perez Burrows went 2-3 with three runs scored, Patrick Hepburn was 2-3 with a run scored and Terico Sweeting was 2-3 with three runs scored.
Comets head coach Garry Markham said his team exceeded expectations after defeating the pennant-winning NCA Crusaders and set the tone for a promising team next season.
"Any loss is not easy to take; it doesn't matter who it or what it is, especially at the championship level. They were fourth going into the playoffs, they beat the top seed. They got over one big game, that's a big hump, they came up against and SAC made some errors on Monday. They scored a few runs off the bat and basically came after our pitcher today," he said.
"Getting to the playoffs was good for us and we did a good job getting into the playoffs but our season went better than expected. Hopefully we have some young talented players that can come back and improve next season."
The Big Red Machine Junior Girls left nothing to chance with a dominant 20-1 win over the NCA Crusaders.
SAC coach Vernice Russell said the motivation from the nail biting 5-4 win in game one set the tone for Tuesday's gruelling practice session which led to the game two performance.
"The first game was too close for comfort in my opinion so we had to come out and make a statement in game two. We worked on the things we had to work on, we came back focused, we came back ready, we came back energetic, we came back to win this," she said. "We had a goal for this school year that we would take the four championships again and we would not be left behind. We came out here and we accomplished what we set out to do."
Six SAC players crossed the plate at least twice to score runs led by Alexandria Rolle and Taylor Walters.
"We came out and we played really good. Our last practices we worked on the errors we made in the first game so today we just played really hard," Rolle said, "I'd like to thank my teammates for being such great players. The championship feels really good. It's my last year and this is my last year so it feels really good."