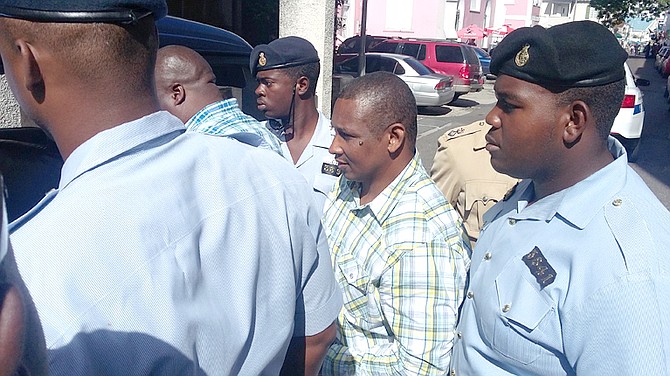 By LAMECH JOHNSON
Tribune Staff Reporter
ljohnson@tribunemedia.net
THE Court of Appeal has affirmed the committal order of the Magistrates Court which approved an extradition request from the United States government to have Melvin Maycock Sr and several alleged accomplices to stand trial in the US on drug trafficking charges.
On Wednesday morning, Justices Anita Allen, Abdulai Conteh, and Neville Adderly affirmed the ruling of the Supreme Court and ordered the committal of the appellants to prison to await their extraditions.
In 2013, the magistrate presiding over the extradition proceedings ruled that there was sufficient evidence for the men to answer allegations of their involvement in a multi-national drug smuggling organisation, as alleged by the US government in 2004 when the request was made.
However, Maycock Sr, his son, Melvin Jr, Trevor Roberts, Gordon Newbold, Sheldon Moore, Devroy Moss, Shanto Curry, Lynden and Brenden Deal, Torry and Larran Lockhart, Wilfred Ferguson, Derek Rigby and Carl Culmer had since appealed the magistrate's ruling with a habeas corpus application to the Supreme Court.
An appeal to the Privy Council on the legality of the Listening Devices Act was lodged by Newbold, Curry, Moore, Roberts, Moss and Maycock Sr and was heard on February 12 and 13 last year.
Two months later, the Privy Council ruled that the Listening Devices Act, the governing legislation for wire taps, was constitutional.
Last September, then-Senior Justice Jon Isaacs approved the extradition request for Maycock Sr, Roberts, Moss, Curry, the Deal brothers, Lockhart, Ferguson, Rigby, Culmer, Moore and Newbold. He quashed an extradition order for Maycock's son and Larran Lockhart.
The Deal siblings, who were on bail, failed to show for the ruling on Wednesday.
See Thursday's Tribune for full details.