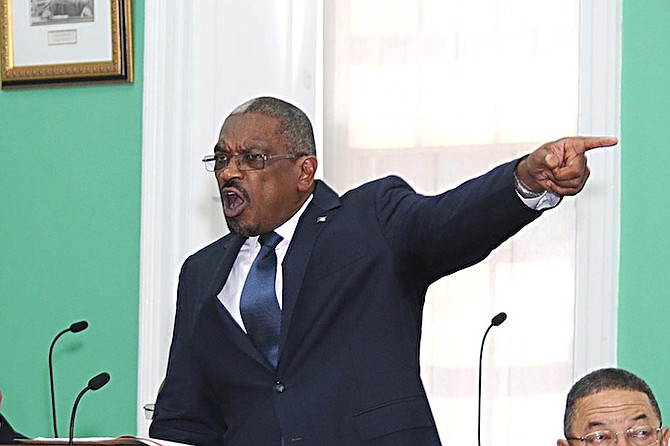 By KHRISNA VIRGIL
Tribune Staff Reporter
kvirgil@tribunmedia.net
FREE National Movement Leader Dr Hubert Minnis yesterday castigated the Christie administration for not having a contingency plan to protect the interests of local contractors who are collectively owed millions of dollars for work performed on Baha Mar.
Dr Minnis said that should the FNM take office following the 2017 general elections his administration will introduce a lien law in a new contractors bill.
This piece of legislation, he told The Tribune, will ensure that contractors are protected in that they are paid by developers and/or satisfied before occupancy certificates are issued. He added that he will at the same time seek to ensure subcontractors are paid by contractors.
The 120 contractors who were engaged to work on the Baha Mar development are together owed $74.3m.
In October, the Supreme Court approved a request by the Export Import Bank of China to place the resort into receivership.
"An FNM government led by me will ensure the protection of Bahamians citizens," the Killarney MP said. "It is our plan to introduce a lien law to ensure that contractors are protected and to ensure they are paid by developers before occupancy certificates are issued. This will also apply to subcontractors.
"An incident like Baha Mar where contractors are left holding the bag will never happen again in Bahamas history."
On Monday, Prime Minister Perry Christie said he and the EXIM Bank have been in continual talks over the $3.5bn hotel with pointed discussions on finding employment for the more than 2,000 workers who were made redundant last month.
Mr Christie further said he has told EXIM Bank officials that he wants all the Bahamian contractors to be paid dollar for dollar.
Last month, Tribune Business reported that the former president of the Bahamian Contractors Association (BCA) said the local companies that serviced Baha Mar needed to be fully paid before they would return to the construction site.
Godfrey Forbes, in his last interview before demitting office as BCA president, said it was a case of "first things first" when it came to the stalled Cable Beach project.
While Bahamian contractors were willing to complete the mega resort development, he added that they first needed to receive a "substantial" amount of what they were owed "if not 100 per cent".
Mr Forbes explained that some contractors may currently not be in a financial position to re-engage at Baha Mar, especially if they had obtained their initial contracts using borrowed money, as the six-month construction hiatus had left them behind on payments to banks and other lenders.