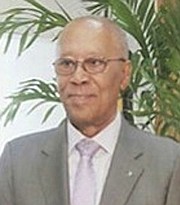 By NICO SCAVELLA
Tribune Staff Reporter
nscavella@tribunemedia.net
FORMER Governor General Sir Arthur Foulkes yesterday highlighted the negative impact "partisan politics" has on remedying the country's crime crisis, saying that the country "has not been good at knowing where to draw the lines in our politics" when addressing the issue. 
Sir Arthur said the country - and parliamentarians in particular - need to "learn where politics begins and ends". He said partisan politics and/or assigning crime to any one political party "prevents us from coming together when we really need to come together as a people - regardless of our political affiliation - to address national problems".
Sir Arthur also refuted suggestions that the implementation of capital punishment is an efficient deterrent for the country's growing crime problems.
He said the focus should instead be placed on intervening in the lives of young men before they turn to a life of crime. 
Sir Arthur's comments come after dozens of heavily-armed SWAT officers locked down Nassau Village on Tuesday afternoon, moments after a 22-year-old father of one was shot multiple times and killed while walking in the area.
That latest homicide took the country's murder count to 134 for the year according to The Tribune's records, the highest recorded in the history of the Bahamas.
While in opposition, the Progressive Liberal Party campaigned on an election promise that it had the answers to crime while the Ingraham Free National Movement (FNM) administration did not. The party even erected billboards in heavily trafficked areas that said there were more than 490 murders during the FNM's five-year government. 
Last month, while in the Senate, State Minister for National Security Keith Bell blamed the FNM for the country's current crime crisis, adding that had the former administration "been responsive, a great deal of the violence that we are experiencing today could have been avoided". 
Speaking at a Rotary Club of Southeast Nassau meeting at East Villa restaurant yesterday, Sir Arthur lamented such actions, stating that "a lot of the problem in which we address (crime) is political".
"We have not been good at knowing where to draw the lines in our politics," he said. "Now, as a former Governor General, I'm not supposed to be partisan, but I think I can make a general statement like that. 
"We have to learn where politics begins and ends. There are times when we take partisan politics too far. As for instance we've had a history in this country of political victimisation. That's taking partisan politics too far. 
"And what that does is, it prevents us from coming together when we really need to come together as a people – regardless of our political affiliation – to address national problems. And that's a great part of our problem. Another part of the problem is it seems that some people simply do not care." 
In light of the recent and record-breaking crime wave, some have called for the re-implementation of the death penalty to combat the country's crime crisis.
Most recently, Bishop Simeon Hall, the Pastor Emeritus of New Covenant Baptist Church, said the government needs to implement "Draconian measures" that would "cause the would-be criminals to think twice". 
He added that he is "afraid for what the future looks like in terms of crime unless we take another approach". 
"That's not a solution," Sir Arthur responded. "What you're saying is the young men are killing other people, so what those people are saying is the state should get in on the action and kill them too. If you're against violence, you don't solve the problem of violence with more violence. I am utterly opposed to capital punishment. I think it makes killers of us all, it is demeaning to a society, and think about the young people. 
"And I get distressed when I hear church leaders say (that). Our job is to save these young people, not to hang them, and hopefully save them before they get to the stage where they're committing horrendous crimes like murder."
On Monday, Prime Minister Perry Christie insisted that the Bahamas is "not a killing field" as he suggested that in a matter of weeks Bahamians will see the government's new and aggressive crime fighting strategies implemented. 
Mr Christie said the country cannot and must not allow the continuation of the wanton display of disregard for human life. 
On Tuesday, shortly after the country's 134th murder, Police Commissioner Ellison Greenslade said he was "not surprised" by the country's rising murder count, and warned that the trend will continue if changes are not made to the country's legislative policies. 
However, Commissioner Greenslade suggested that the reforms could be on the way, describing a lengthy recent meeting with Mr Christie and National Security Minister Dr Bernard Nottage as very encouraging.