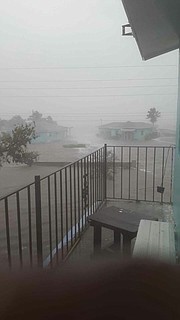 By SANCHESKA BROWN
Tribune Staff Reporter
sbrown@tribunemedia.net
DOZENS of residents in the southern Bahamas are trapped inside their homes as floodwaters continue to rise during the slow but extremely dangerous passage of Hurricane Joaquin.
The US National Hurricane Center upgraded Joaquin into a category four storm as of 2pm on Thursday. The dangerous storm is expected to gain strength as it moves over portions of the central and southeast Bahamas today and tonight.
Major flooding has been reported in Exuma, Long Island, Cat Island and Eleuthera. However, the most severe flooding reported so far has been on Acklins, where power went off overnight limiting phone and Internet access. The Tribune understands that at many as 10 persons were trapped on Samana Cay on Thursday, over which the eye of the storm is expected to pass, without proper shelter or communication.
Residents in the southern Bahamas have complained that they were not given enough warning by the Bahamas Meteorological Department or the National Emergency Management Agency (NEMA) to secure their homes and evacuate if necessary, forcing them to deal with rising water levels and hurricane force winds without preparation.
However, NEMA Director Captain Stephen Russell told The Tribune on Thursday that all affected islands were "given ample warning." He said the problem is some "residents do not want to leave their homes" and they are "refusing to go to the shelters."
He said that in many instances "police had to be called to get persons out."
Shandira Forbes, a resident of New Providence said her mother, who lives in Acklins, said the weather there is "horrible" and the "sea water is pouring" into her home.
"My mom is in Lovely Bay - by 9am on Thursday she said the sea barrier had already broken," Ms Forbes said. "Acklins is not faring well at all. In Lovely Bay there is a bridge that connects settlements and from yesterday (Wednesday) afternoon they could hardly pass that bridge, now the bridge is underwater," Ms Forbes said.
"They can't get into Lovely Bay to assist anyone. My mom is the administrator's secretary. She was calling for help because the sea was pouring into her house. Her house is built three feet above the ground. People's roofs were lifting up. No one knew about the storm, so there was no (preparation), there was no meeting, there was nothing.
"By the time anyone knew that the storm was on the way it was too late. The whole of Acklins is under water and Samana Cay does not have any shelter."
V Alfred Gray, the member of Parliament for Mayaguana, Inagua, Crooked Island, Acklins, and Long Cay (MICAL), said residents should have been given more notice to prepare for the hurricane. He also said eight to 10 persons were trapped on Samana Cay and he "is not sure" what will happen to them.
"People from mainland Acklins go to Samana Cay to harvest the cascarilla bark as a way of life," Mr Gray said on Thursday morning. "There are 8-10 people on the cay now from what I understand, and there is temporary housing. If they don't have radio to know what's going on that would be a problem but more often than not they are in communication."
"They have shelter but I guess it will be reasonable to think that the shelter might not be able to withstand the strength of a hurricane category (four)," Mr Gray said.

Meanwhile, Capt Russell said NEMA is fully activated and is responding to calls for help.
"There is severe flooding in Acklins and we were told that two persons were trapped in their homes," Capt Russell said. "The problem is that winds are 125mph so we are not encouraging anyone to move and we will not put out emergency rescue teams in jeopardy. Persons are going to have to wait until the wind calms down.
"We warned all the affected islands as soon as we knew but the problem is no one wants to leave their homes," Capt Russell said. "We are having difficulty getting persons to leave their homes. In a few instances we have had to call the police to take persons to the shelters because they were stubborn. Then when the storm is upon us, they want us to send emergency workers during the peak of the storm."
The slow moving hurricane is predicted to drop 10 to 15 inches of rain over San Salvador, Rum Cay and Acklins with up to five inches expected over the rest of the Bahamas.
NEMA will hold a press conference on the storm at 3pm Thursday.
For more on this story, see Friday's Tribune.