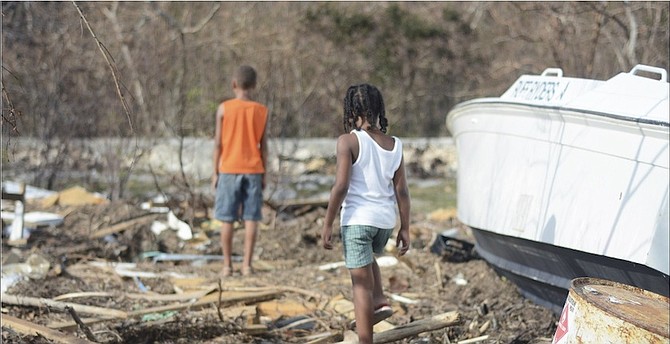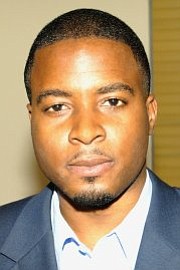 By ADRIAN GIBSON
ajbahama@hotmail.com
Hurricane Joaquin has exposed the inadequacies and failed planning of our government. The sheer devastation has exposed the gross ineptitude, incompetent behaviour and ridiculous outlook on governance of our government.
The storm slowly walked through the south-eastern Bahama islands, mashing down and destroying all in its path. Though we have suffered much loss, as a nation, we must be grateful for the fact that no one was killed or maimed. That said, I am aware of the apparent loss of 33 souls on the sunken US cargo ship, El Faro, off Crooked Island.

The rumour-mongering and resultant hysteria was no doubt due to lack of information. What little information was made public caused many of us to have panic attacks. The claim that there were 30 deaths in Long Island appears to have been an exaggerated lie, but that lie caused many heartaches.
What's more, there are idiots with cell phones who record untrue, malevolent voice notes that make the rounds on WhatsApp and social media which further alarm and terrorise an already worried populace.
Communication is critical in times of crisis. All of this was exacerbated by the fact that BTC's mobile and landline systems are useless embarrassments during a hurricane and people cannot effectively communicate at all with family and relatives. Disgraceful.
From henceforth, I will view the National Emergency Management Agency (NEMA) - barring any changes - as a total waste of taxpayers' monies. NEMA failed to keep us informed and to provide regular updates.
Captain Stephen Russell, the Director of NEMA, seems powerless. It seems that he has been politically castrated by bureaucrats and "wutless" politicians. I almost feel sorry for him.
Our disaster preparedness protocols are outmoded and need to be revamped. There seems to have been mismanagement at all levels of governmental strategic planning in the face of such a catastrophic storm. Moreover, it is clear that had there been injuries and loss of life our archaic public healthcare system would have collapsed under pressure.
The storm has exposed our healthcare system, our lack of disaster preparedness and our lack of forward-thinking by consecutive governments who have failed to envision such cataclysmic occasions. We have elected for many years a group of benchwarmers, of visionless managers, of gatekeepers. Who among us can sincerely have faith in these people?
While the south-eastern Bahama Islands (aka Rome) burned, the government danced and fiddled and talked foolishness about people going into caves and other politricks.
MICAL MP Alfred Gray unashamedly said: "They have shelter but I guess it will be reasonable to think that the shelter might not be able to withstand the strength of a hurricane, category (four). When I was a young boy we used to shelter from the storm in the caves. So if the buildings look like they won't withstand, there are some caves on the side of the rock that they can go into because it's not prone to flooding." How insensitive and poorly considered!
As it stands, communications have not been re-established on/with Long Island and many of the other south-eastern islands.
When communications systems fail, when the government puts more effort into talking fool about caves and when the PM politicises a press conference about this storm, all while not ensuring that proper warning systems and other systems are in place, it is time to hold these folks to account.
There were many news reports where Long Island wasn't even mentioned. This was botched and mishandled. Our brothers and sisters on these islands are facing perilous times. Someone must also answer for the handling of this. Greater effort should have been exerted by the authorities and all those making the decisions before the storm and now in the wake of the storm. Much more could have been done at the outset to limit or prohibit certain things from happening and far more could be done now.
We need help. We need the full-scale involvement of the US Coast Guard and our regional partners.
To this day, we are all in darkness and getting "drip drip" of bad information here and there.
Our government's role is to ensure the wellbeing and welfare of its citizenry. That has not been done. And I could care less if that government is PLP, FNM, DNA or anything in between. One government for one people. And when there are failures and people pay for such ineptitude, that too becomes a priority so that such misfortune, such failings are never, ever repeated.
Whatever happened to the Royal Bahamas Defence Force boats that we've just purchased for more than $200 million? Why have they not been deployed?
Why does the government not have the foresight to issue at least 20 satellite phones to officials and community leaders on each major island – with a spare battery – during hurricane season, especially when we could have communication blackouts as we are now experiencing. Common sense is certainly not common.
Without vision, the people will perish. And our people are perishing and perhaps would be dying but for the efforts of private citizens. It is those of us who have selflessly dug into our pockets and contributed to various humanitarian causes that have seen to the survival of our brothers and sisters on the affected Family Islands. While the government fiddles, dances, assesses and talks foolishness, our people on the affected islands are thirsty, hungry, without clothes and toiletries. My heart is full and I am overjoyed to see our people and our friends in other jurisdictions come together to lend a hand to those persons who have been left homeless and hopeless due to Hurricane Joaquin.

The government took forever to mobilise. Where is our VAT money? I understand that the monies collected from VAT are being placed in the consolidated fund. If this is so, what proportion of the VAT collected - if any - is being used to pay down our national debt? How is it that the government has yet to roll out a massive rescue, relief and restoration programme for all of the Family Islands beset by Hurricane Joaquin.

Sadly, the development of several Family Islands has been retarded by 10 to 25 years.
I love my country, but I cannot lie. I am biased towards Long Island and my heart and mind is in my hometown. I have operated like a mindless drone all week. My family hails from both ends of the island. My grandfather, Edward Gibson, is from the south and my grandmother, Lenora Gibson, is from the north. They live in the north but so many more of my family is situated at both ends. I have yet to hear their voices. All communication is down.
Fortunately, I was able to get two reports – from a neighbour whose boyfriend has a satellite phone and from a school mate who has been making daily trips to Long Island as a member of Cable Bahamas' restoration team. To hear that my grandpa and those were seen and that he was driving about, assessing damage and our rental cars, etc, has given me hope that at least they are alive and well.
However, I do not know the state of their abodes or of my own buildings and investments in Long Island. At this juncture, knowing that all is well with them will suffice. I will have a full accounting of the other matters when I go home to Long Island shortly.
I'm taking all that the plane would allow me, even if that means paying extra for luggage.
I must applaud Long Island MP Loretta Butler-Turner for mobilising so quickly to get help and aid there. On Saturday, Mrs Butler-Turner was in the air by 7am and though her plane could not land initially, she demonstrated leadership and concern for her people. She is a woman after my own heart and it is rare when I feel myself almost wanting to cry when I witness such happenings. She made me feel hopeful that my people were going to be alright.
We, Long Islanders, take care of our own. We did not and will not sit and wait for Mr Christie and the government.
Mrs Butler-Turner has exemplified that Long Island spirit. We are not photo-opportunity people, we are productive people. By Saturday morning, while the government was twiddling its thumbs, she had already organised the relief effort with fellow Long Islanders and so, by then, boats, planes, helicopters and commitments for water, foodstuffs, medicine and other items were all made available to her. That is doing, not talking.
Mrs Butler-Turner's swift actions will forever be etched in my mind and that of many other Long Islanders.
I must also applaud Deputy Prime Minister Brave Davis who, like Mrs Butler-Turner, took plane loads of aid into his constituency and other affected islands whilst his Cabinet comrades were hoping to get into the newspapers.
I can understand that FNM leader Dr Hubert Minnis wanted to present a united front and embrace the spirit of unity in politics in the face of such a devastating storm. However, in hindsight, the good doctor should have left earlier to assess the islands as opposed to waiting for Mr Christie.
It is obvious that the trip through the islands, which began late Saturday afternoon - after Mr Christie had attended Ken Perigord's funeral and, I'm told, another funeral – left a bad taste in many mouths. The optics of Mr Christie attending these funerals speaks volumes about the sincerity of the concern shown. Mr Christie has seemingly neutered any Opposition criticism that could be laid at his feet.
From the pictures, it appears that Bahamasair was filled with selfie-taking bunglers. When the PM and his Cabinet arrived at Odyssey Aviation, they were purportedly swinging their empty hands. Those who carried something had only briefcases, coats or the clothes on their backs.
They managed to obtain some of the pre-packaged boxes that were in the hangar at the airport and that needed to be shipped out. All of the Vitamalt boxes that Cabinet ministers were seen carrying, distributing and/or stacking were from volunteer groups that had assembled at Odyssey Aviation. The boxes all had red tape on them. Ask those volunteers if the government donated any of those boxes or anything in them.
These pictures were not authentic: these persons were fronting and pretending! They did not even know what was in the boxes, some of which were packed specifically as they were set to go to different communities. Father Keith Cartwright had done an aerial inspection of the islands and the boxes were packed on that assessment of each settlement.
Some boxes contained medicine, others breadbasket items and so on. But, those Cabinet ministers pretending to be so generous wouldn't know this.
I have heard grumbling that many of us are just focused on Long Island's needs whilst there are other islands suffering. Whilst Long Island has my immediate attention, I certainly have and/or will donate and give of my time to each island. We are one people.
On Saturday, Mrs Butler-Turner and her team of mostly Long Islanders also conducted an aerial assessment of San Salvador, Crooked Island, Acklins, Long Cay and Mayaguana. I'm aware that that team were the first responders to deploy food and other items via seaplanes, boats and helicopters in those areas.

There are still no established communication networks in Long Island. However, through sheer will and resilience Natasha Turnquest sent me a few emails this week.
She began by saying: "We are alive. We need every bit of help we can get."
Natasha told me of several families that lost everything. She said that she was leaning against the BTC cell tower in Clarence Town in an effort to use Wi-Fi to email me. She told me that she lost her entire nursery and that they had lost boats.
"They say help is coming but it's too long," she wrote. Natasha told me that water was being rationed based on who one knew.

"This government needs immediate policy change. Suspend licence fees. All of them. And obviously the $100 farming licence (as) there are no farms, as salt water is waist deep. Suspend all tax collection right now. Governance is gone here. Why are we subjected to more rape," she wrote. Natasha wrote me a second email asking me to get into contact with her father, Kevin Turnquest, and to let him know that she and her husband and mother had all survived in their bathroom in the Stevens settlement. I called immediately.
"We 'scrapped' for decades and it's gone. Please let the powers that be know (that) the Bight to southend economy (is) gone. How can they VAT us, help Adrian?" she asked.
Mrs Turnquest also called for the firing of the "government's minions who left us to die". I felt her passion.
On Monday, Natasha informed me that she had checked on some of my family in the south and found that they were fine. "I have lots of information and there are hundreds of stories to share. I live Stevens ... I'm so exhausted. I apologise for this awful writing. Take care. I will come here to the Wi-Fi as often as possible ... Thank you, thank you for listening."
I heard from Natasha again on Tuesday. She apprised me of the situation in the north and told me that the harbour in Salt Pond was decimated and that she believed that there were "hundreds of tornadoes" that came along with the hurricane. She told me there was quite a bit of theft and that the aid was taking so long as the mail boats had not arrived. I was also told of a meeting that was being held at the Community Centre that day.
Natasha then said: "O my God we are going to die at the hands of disorder ... They commandeered our truck sat (Saturday) and yesterday the defence force was walking and we let them take it to give out aid ... No aid is being moved by these vehicles. Day 4 here Adrian (.) (P)eople want to flee the island. By the time these boats come it's going to be like cheese for rats on the Titanic. I'm so scared."
She described the chickens being inside and the dead guava tree outside her window as being indicative of an aura of death.
She added: "But it's not so. (I)t's waking up in a nightmare it's having next to nothing and losing that or most and the guilt that you have, somehow, more than your neighbour. I'm so tired. Once my dad gets here we have to dig out my husband's family. I don't think I will get to Clarence Town to this damn tower after that. I hope (this) rambling (on) helps us." I will see Natasha this weekend.
She also expressed wonderment about who was driving the island administrator's jeep and why that vehicle hadn't been turned over to assist with the aid efforts.
Long Island has lost many of its fishing vessels. Our economy is in tatters.
Hurricane Joaquin is PM Christie's Waterloo moment. His response reminds me of former US President George Bush's much-criticised response to Hurricane Katrina in 2005. As much as it's a nausea inducing term, we have to call this a teachable moment. We must learn from the inadequacies of our disaster preparedness.
The sense of urgency was less than ideal.
We are now faced with a quagmire. It is possible that we could see another economic downgrade as the government finds itself with unanticipated expenses for hurricane response.
The spirit of volunteerism in the relief efforts has been amazing. Everyday citizens are demonstrating leadership and stepping up. I have a renewed faith in the Bahamian people and I am ever so hopeful.
Paul Aranha and the team at Trans Island Airways must be commended for their fantastic, priceless contribution to the relief efforts. The partnership of Trans Island Airways, Odyssey Aviation, the Long Islanders Association, Archdeacon Keith Cartwright and the MP for Long Island have delivered more than 100,000lbs of food, water, medical and other supplies as well as government and law enforcement personnel. They have flown more than 230 hours, evacuated more than 85 persons and comprise more than 350 volunteers.
Father Keith Cartwright of St Christophers must be hailed!
Disaster relief groups such as HeadKnowles, formed by Lia Head-Rigby and Gina Knowles, have restored our faith in humanity and in what we can do when we pull together.
Kudos to you, the Bahamian public, for epitomising what it means to be our brother's keeper! I am proud to be a Bahamian and proud to call all of these volunteers and persons who give of themselves "comrade".
ajbahama@hotmail.com