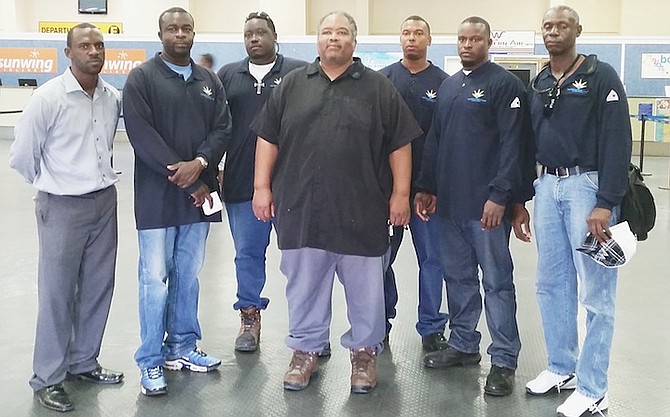 By DENISE MAYCOCK
Tribune Freeport Reporter
dmaycock@tribunemedia.net
GRAND Bahama Power Company has sent a six-man crew to assist the Bahamas Electricity Corporation with the restoration of electricity and the rebuilding of power infrastructure on Long Island.
Team leader Patrick Laing, Walter Smith, Andre Spence, Chad Bartlett, David Parker Jr and Arthur Spencer left Grand Bahama on Sunday and will spend three weeks helping to repair the massive infrastructural damage caused by Hurricane Joaquin.
GBPC quickly offered its assistance to BEC. Troy MacKenzie, director of transmission and distribution at GBPC, said that the latest reports they had received indicated that about 100 power poles were down on the island.

"We are just pleased to be able to send off a six-man team to Long Island to assist with hurricane restoration efforts. The crew will be lending a hand in every which way they can to bring people's lives back to some kind of normalcy," he said.
Mr MacKenzie said that the crew consists of overhead linemen who specialise in the construction, maintenance and repair of transmission and distribution assets. He said they will be erecting poles, re-conductoring wire and running electricity through the lines so customers can receive power.
Delano Arthur, manager of operations and maintenance for transmission and distribution at GBPC, said that the six men will be working 16 hours a day, seven days a week for three weeks. He said that the goal is to assist persons in restoring power fast and safely.

Mr Arthur said that BEC initially conducted an assessment of the island, made notes of the damage and requested assistance. "They reached out to GBPC and we graciously answered the call to assist. Our guys will be down for three full weeks, and if they ask us to stay longer we will oblige," he said.
Mr Mackenzie said that assisting those affected by the storm is in keeping with the company's corporate responsibility, philosophy and compassion for residents. "Providing support to our neighbours in this or any major natural disaster is one of the hallmarks of GBPC and Emera, our parent company," he said. "Our thoughts and prayers are with the people affected by Joaquin in the southern Bahamas; we will make every effort to aid in the restoration of power as quickly as possible. We are confident that our team will make a significant contribution to the restoration efforts."
Peter Turnquest, MP for East Grand Bahama, has donated the transport of the critical tools, supplies and luggage for the crews on Sky Bahamas.
"Normally, that would have been a hefty bill for us and so we are very grateful to Mr Turnquest and Sky Bahamas for their donation of transportation," said Cleopatra Russell, of the GBPC communications department.

BEC and CARILEC (The Caribbean Electric Utility Service Corporation) are overseeing the power restoration on Long Island. CARILEC was established in 1989 with nine members as part of an electric utilities modernisation project funded by USAID and implemented by NRECA (the National Rural Electric Co-operative Association) under a five-year co-operative agreement.
Whenever there is a disaster, CARILEC puts its disaster management plan in place and helps to direct crews in place and finds the associated field experienced people and place them where best needed. Andre Farrington is the CARILEC project manager who is co-ordinating the effort.