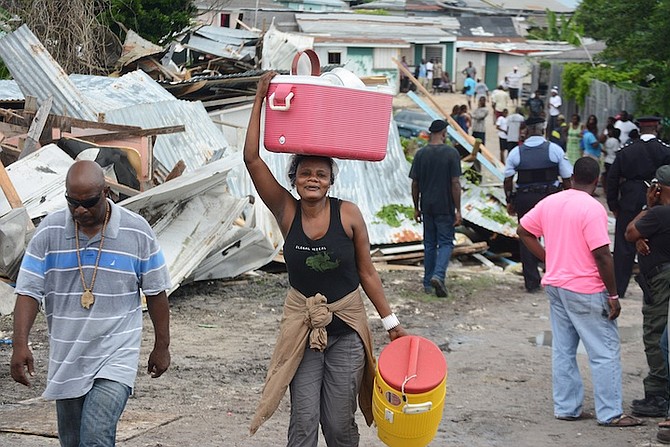 By LAMECH JOHNSON
Tribune Staff Reporter
ljohnson@tribunemedia.net
A HUMAN rights group yesterday said that it is prepared to fight in and out of court for residents displaced by the recent demolition of a shanty town in the Gamble Heights community that the group believes is an illegal move by a "dictatorship" government.
Fred Smith, QC, who is president of the Grand Bahama Human Rights Association, issued a statement following Friday's demolition that left scores of residents, many of whom claimed they had not been given any notice by government officials and landowners "hopeless and homeless." However, officials from the Department of Environmental Health Services and the Department of Immigration maintained that Friday's operation was "pursuant to lawful notices served on residents of an unlawful settlement."
Additionally, immigration officials have said that they were advised that the community housed suspected unlawful migrants.
"The GBHRA is prepared to fight for anyone who wishes to sue the government for the demolition of their homes and destruction of their property," Mr Smith said yesterday.
"If there is anybody who still has a home and who is prepared to seek an injunction to restrain the future demolition of their homes, the GBHRA is prepared to act for them but my message is that we must take action in all forums," he added.
"The prime minister and his Cabinet are dictators," Mr Smith added, challenging members of the executive to dispute that "the breakdown of the Rule of Law in the Bahamas does not only apply to immigration matters."
"For decades, the Bahamas has been run as a dictatorship by the Office of the Prime Minister and his Cabinet. I do not exaggerate when I say this. There is absolutely no respect by the politicians in power, be they FNM or PLP, for the laws passed by Parliament or for the Constitution. The Bahamas is a lawless nation," Mr Smith claimed, "that is why we face so many challenges in this country.
"Very regrettably, abuse of power and the inhumanity visited upon each other has been part of the history of mankind from inception and continues to be. We are lucky in the Bahamas that we have not had the blood-letting and violence arising from ethnic strife such as exists in many other countries today. If our government is not careful, if it continues to attack its own citizenry, if it continues to do violence to people's rights and property, then unfortunately violence will manifest itself in many different forms."
Mr Smith, yesterday also challenged the government's legal basis for the demolition.
"There is no law which allows the government to attack and demolish people's homes without compensation as Article 27 of the Constitution protects against precisely what the government is doing."
Mr Smith asked that he not be misunderstood as he agrees that we cannot live in a society where people can just build whatever they want to anywhere at any time without proper permits or illegally take people's property.
"All I keep stressing is that for any government organisation to take legal action against property or persons there is due process which is to be followed under the various laws passed by Parliament and subject to the fundamental rights and freedoms in the Constitution."
"Even if people build homes on land that they didn't have permission to, the Limitation Act passed by our lawmakers in the Parliament of the Bahamas – 'squatters rights' - says that if anybody, and it doesn't say Bahamian or foreign, occupies land or property for 12 years or more it belongs to them," the lawyer said.
Representatives from the Department of Social Services contended last Friday that procedures were in place to aid those affected by the demolition process.
On Friday, Kirkland Neely, officer in charge of enforcement in the Department of Immigration, told The Tribune that despite the claims of many of the residents, notices were given before the exercise.
He added that in some instances, notices were sent out last year, but after concerns were raised by other government agencies - Social Services, Department of Environmental Health in particular - a number of grace periods were granted in the hope that residents would lawfully vacate the property.
Mr Neely said those notices were "openly ignored and overlooked."
According to Mr Neely, officials have been in communication with the property's owner, Patrick Charles, for an extended period of time.
Mr Charles admitted at the scene to The Tribune that the issues of illegal construction and housing of illegal migrants had grown "well beyond something I, one man could control." Now, he said, the shanty town presented serious health issues.
Mr Charles said the six-acre property had been in his family for generations and passed down to him, by which time elements of the problem were already flourishing.
"When the property was given to me there were some homes already here. Daddy allowed them to build a couple of structures around the property. He collected rent the right way and as time went on and he got sick, things got out of hand."
Mr Charles said he had tried to collect rent but had failed, being given excuses by the residents.
He went on to say that following a massive fire in a shanty town in eastern New Providence, known as "Mackey Yard", many of the displaced residents there sought shelter in the Gamble Heights area.