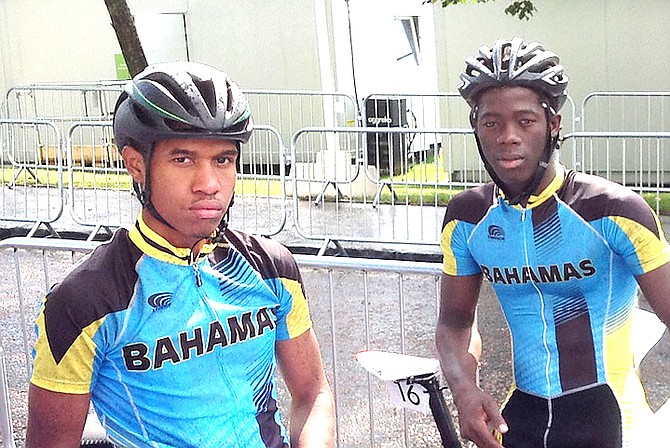 By RENALDO DORSETT
Sports Reporter
rdorsett@tribunemedia.net
ANTHONY Colebrook's performance stood out among the five-member team for the Bahamas at the 2015 Caribbean Elite Cycling Championships in Barbados.
Colebrook was the top finisher for the team in 13th place in the individual time trial, covering the 37.6km course in a time of one hour, one minute and 34 seconds.
"Had a great race this weekend, wasn't expecting this much pain and suffering. The race was really hard but I put on all my effort and hard work into it but I feel like I wasn't ready for this type of race," Colebrook said in a Facebook post.
"I'm glad I did and got the experience and the support along the way. Just want to say thanks to you guys for everything. This was a tough race."
Local favourite Joshua Kelly, of Barbados, finished first in 50 minutes and 46 seconds, followed by Emile Demazy of Martinique in 50.57 and Russell Elcock of Barbados third in 51.13.
Marloe Rodman of Jamaica won the 154.4km road race in 3hr 12min 25 secs, followed by Guadeloupe's Luis Sablon in 3:12.25 and Yolan Silvestre of Martinique third in 3:12.26.
Team Bahamas included Jay Major, Anthony Colebrook, Roy Colebrook Jr, Justin Minns, Chris Curry and D'Angelo Sturrup. The team was coached by Barron "Turbo" Musgrove and managed by Keith Lloyd.
Approximately 100 riders from 20 countries will be competing in the three-day event.
For the event, the Barbados Cycling Union received support from the Pan American Cycling Confederation (COPACI), the International Cycling Union (UCI) and the Caribbean Cycling Federation (CCC).
UCI had a presence at the event with President Brian Cookson giving an opening address prior to the road race.
UCI is the world governing body for sports cycling and oversees international competitive cycling events.
"The Caribbean is a very important part of the world for UCI. When I was elected president two years ago I proposed we support the sport in developing nations in smaller cycling ventures and I was very pleased to see the progress," he said.
"It's great for me to be here, I was very happy to see the level of competition and to see so many athletes competing here. I'm looking forward to seeing these championships getting bigger and better every year."