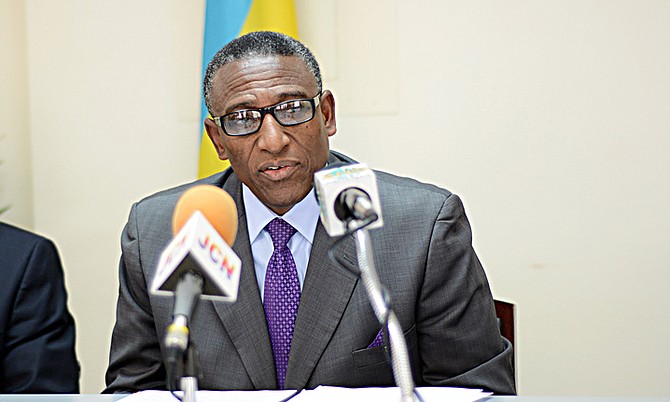 By KHRISNA VIRGIL
Tribune Staff Reporter
kvirgil@tribunemedia.net
HOMES that were completely destroyed on the islands hardest hit by Hurricane Joaquin will be rebuilt by the government where necessary, according to MICAL MP V Alfred Gray yesterday.
However, Mr Gray stressed that the government is "not going to give everybody a new house".
Mr Gray, the minister of agriculture and marine resources, also urged those living in Nassau to volunteer their time and resources to assist in rebuilding efforts on Acklins, Crooked Island, Long Cay and Rum Cay.
Mr Gray held a meeting at his ministry on East Bay Street yesterday to advise those who were displaced from his constituencies and are now temporarily residing in the capital on how to receive assistance from the government until their islands and homes are fully restored.
He also heard the concerns of people who still have family members living in the affected islands.
"I must warn you that the government is not going to give everybody a new house, because I hear it," Mr Gray said. "Some people lose couple shingles (and they complain) that it's an old house (saying) I want a new house now. That's not going to be the case.
"I am saying if you lose your house, I can promise you the government will cause a house to be rebuilt for you if you lose it. If it is damaged it will help you repair it. But I want you to know that the government expects those of you who can do something for yourselves, it expects you to do some things for yourself because if you can buy three bundles of shingles and you need six the government only has to help you with three.
"Some people will expect the government to do everything especially now that election (is) coming. I am saying that to say this, the government cannot do everything for everyone and the houses that the government will put there temporarily will be for those people who need it most so that they could return to some kind of normalcy in the shortest possible time."
It is still unclear whether the government will pass legislation to declare some of the areas on the affected islands as no build zones.
Last week, Prime Minister Perry Christie said while this and other major decisions are before Cabinet, the government will encourage people to build in elevated areas with very specific building requirements that can withstand future natural disasters.