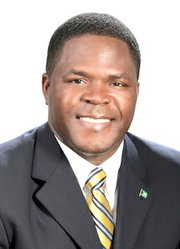 By RASHAD ROLLE
Tribune Staff Reporter
rrolle@tribunemedia.net
MINISTER of State for Investments Khaalis Rolle defended the government's fiscal policies yesterday after it was revealed in the Central Bank of the Bahamas' Quarterly Economic Report that the national debt increased by $581.4m, or ten per cent, up to June of this year.
In light of the increase some have questioned whether value-added tax (VAT) is fulfilling its purpose of helping to reduce the national deficit and debt.
Addressing the matter yesterday, Mr Rolle said: "We're still going through the fiscal consolidation process. There were projections provided in 2012 that it would take a couple of years for us to narrow the deficit to zero, a balanced budget. Until the budget is balanced we are still going to have a deficit shortfall and that deficit shortfall would contribute to the national debt by increasing it.
"It was projected that we would not have a balanced budget until I think 2016 or 2017 so until that happens, where do you think we will get the shortfall from to run the government?"
Last week Free National Movement Deputy Leader Peter Turnquest said the deterioration of the country's debt-to-GDP ratio is a "daunting reality."
"This is especially so when we consider that the national debt has continued to escalate even after the introduction of VAT and suggested reductions in overall expenditures," Mr Turnquest said.
"(The 10 per cent rise) suggests a debt-to-GDP ratio of almost 75 per cent, well into the danger zone suggested by the IMF and on its present course is unsustainable. When one considers that VAT for the same period is said to have amounted to $182 million, removing this new revenue from the equation means this government has actually increased the deficit by $763 million in just one year. No wonder the PLP chairman and the government are so defensive, personal and belligerent over its VAT policy and secretive over the accounting of exactly where these tax dollars are being spent," the East Grand Bahama MP said. "In the lead up to the implementation of VAT, the government made much of its promise to utilise a portion of this new revenue to eventually eliminate the national debt. To date we have seen the exact opposite as the government finds new and more creative ways to spend these tax dollars on frivolous escapades and questionable programmes. The Central Bank's numbers suggest that while the annual deficit is contracting due to VAT, the overall national debt load continues to increase leaving everyone to question, where exactly this new VAT revenue is going?"