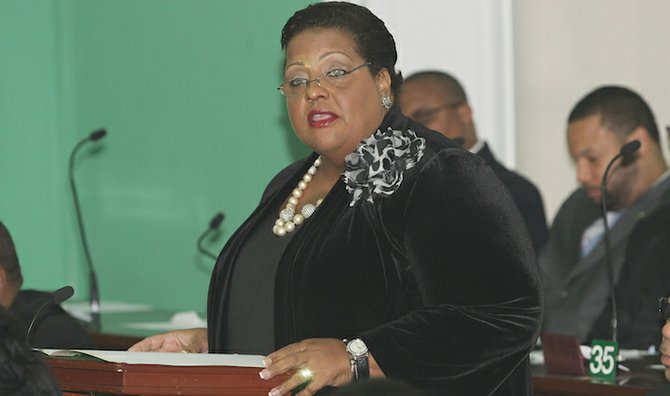 By RICARDO WELLS
Tribune Staff Reporter
rwells@tribunemedia.net
AS REBUILDING efforts begin to take shape in Long Island, area representative Loretta Butler-Turner held the second in a series of town meetings, working to ensure that all concerns raised by residents are heard.
Speaking to a crowd of nearly 50 locals at North Long Island High school in Simms, Mrs Butler-Turner insisted that despite the devastation left in the wake of Hurricane Joaquin, Long Island will recover.
Flanked by the island's deputy administrator,Terrece Bottle-Bethel, and Department of Social Service's representative, Salomie Gibson, Mrs Butler-Turner heard the island's northern residents speak openly about their concerns for the future.
Residents told The Tribune that while they are beginning to take steps to repair their homes and properties, they have some concerns with the government's proposed 90-day exigency order.
Claims raised called into question the feasibility for residents to replace the vast amount of property they have lost. One resident noted: "90 days isn't enough time. Persons have lost cars, homes – they have lost everything."
She questioned: "How can you expect us to replace all of these things in such a short period of time?" She suggested the extension should be for two years.
Prime Minister Perry Christie signed an exigency order two weeks ago in response to the urgent need for specified goods required for recovery and rebuilding, waiving the import duties on those items for 90 days. There have been several calls already to extend the period.
The order covers relief of residents in Acklins, Cat Island, Crooked Island, Exuma, Inagua, Long Cay, Long Island, Mayaguana, Rum Cay, Ragged Island, Samana Cay and San Salvador which suffered hardship or loss as a result of Hurricane Joaquin, and whose claims/applications in respect of such goods are certified by the director of the National Emergency Management Agency (NEMA).
The import of goods specified is permitted for a period of 90 days, beginning October 3.
In reference to motor vehicles, exemption will be based on the market value of the vehicle destroyed on the date of the hurricane, the government said. The destroyed vehicle must be turned over to the authority of the Customs Department.
The government has also declared the waiver of landing fees, departure tax for non-commercial flights bringing in relief goods, and Customs processing fees on imports in the above-mentioned islands for a period of one month, commencing October 3.
The islands of Acklins, Crooked Island, and Long Cay have been declared sufferance port areas for a period of three months, also commencing October 3.
Meanwhile, Mrs Butler-Turner moved to clarify issues surrounding the storm's timeline as it related to Long Island.
She said Long Island had started to feel weather conditions associated with the system as early as Tuesday evening, roughly a day prior to any warnings that were issued by government officials.
"I got calls on Wednesday evening from residents telling me of sea swells, high tides and strong winds," she said.
She added that by the time an official warning was issued early Thursday, the island of Long Island was already in the preliminary throes of the massive category four storm.
Reports presented by Mrs Butler-Turner indicated that the island at that time was experiencing 170mph winds, with sustained winds of 200mph and wind gust up to 220mph.