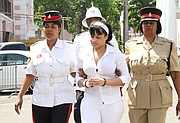 By LAMECH JOHNSON
Tribune Staff Reporter
ljohnson@tribunemedia.net
THE Court of Appeal has reserved its decision on whether the country's first human trafficking convict should have been given the choice of a summary trial or a Supreme Court trial.
Murrio Ducille, lawyer for Chevanese "Sasha" Hall, argued before Justices Abdulai Conteh, Neville Adderley and Stella Crane-Scott yesterday that "trafficking in persons" was not an indictable offence under the existing Criminal Procedure Code (CPC).
He said that there were three categories of offences under that particular law: summary (Magistrate's Court), indictable (Supreme Court) or electable. The latter option allows an accused person to choose whether he or she wants to be tried in Magistrate's Court or Supreme Court.
Mr Ducille argued that the charges of trafficking fell under summary offences. He said it was peculiar that other cases subsequent to that of the appellant had been heard in Magistrate's Court.
He argued that even if the court did not accept this, his client should have been given the right to elect which court she wished to be tried in, as the Trafficking in Persons Act of 2008 provided sentencing recommendations for both courts.
He said if the court allowed his client's appeal, it should declare that she should not be retried as she had been in custody since early 2013.
Crown respondent and Acting Director of Public Prosecutions Garvin Gaskin responded that the attorney general had the authority under the CPC and Trafficking in Persons Act to have such matters tried in Supreme Court through the Voluntary Bill of Indictment process.
Hall was arraigned in February 2013 in the Magistrate's Court on four counts of trafficking of a person, and two counts of unlawful withholding of papers, alleged to have been committed between January 10-28, 2013.
When formally arraigned in the Supreme Court, she pleaded not guilty to all of the charges.
She was tried last March where she was found guilty of all charges and faced between 15 years to life imprisonment on the first four charges and 10 years imprisonment on the remaining offences.
The judge, however, did not consider that life imprisonment was a fitting sentence in the 25 year old's case and imposed a 15-year sentence instead.