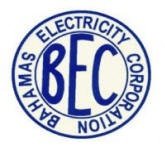 By RICARDO WELLS
Tribune Staff Reporter
rwells@tribunemedia.net
OFFICIALS at the Bahamas Electricity Corporation (BEC) on Friday blamed a fault on an overhead transmission line for an outage that left nearly half of New Providence in darkness.
The corporation claimed the fault forced several generator units at its Blue Hills Power Station and one unit at its Clifton Pier Power Station to trip offline shortly after 11pm on Thursday.
BEC officials maintained that the outage was not island-wide as previously speculated, but affected roughly half of New Providence.
A statement read: "The Corporation apologises to those affected by the overnight outage and assures them that its team expedited the restoration process in an effort to quickly return engines to service and to bring customers back on supply."
Officials said that by 1am on Friday, all customers impacted by the outage had their supplies restored.
Last week, BEC officials suggested that two major lightning strikes at the Clifton Pier Power Station were the "root" cause of an island-wide outage which lasted for nearly five hours.
The corporation's outgoing Executive Chairman, Leslie Miller, claimed that the system subsequently shifted its full load to the Blue Hills Power Station, resulting in a forced shutdown at that site due to the massive demand. The blackout occurred around 2.30pm.
Officials however, on Friday said an investigation into that incident has revealed that its system was vulnerable because of copper theft that compromised key protective mechanisms.
"BEC continues to discourage the theft of copper as this practice has caused the Corporation millions of dollars in damage and lost revenue and can pose significant risk to life and property," BEC's statement read.
In February, Mr Miller reignited calls for a ban on copper after the electrocution of a man trying to steal copper from BEC.
Widespread copper theft propelled the Ingraham administration to implement a permanent ban on the export of copper and a 90-day ban on scrap metal in 2011.
The ban was later lifted and copper exports were allowed under more stringent terms in an amendment to the Customs Management Act.