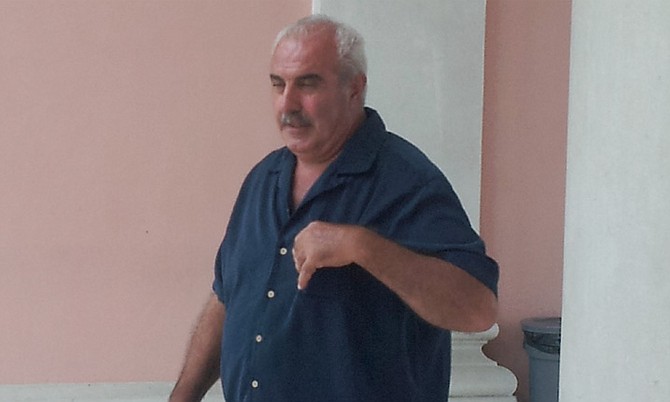 By DENISE MAYCOCK
Tribune Freeport Reporter
dmaycock@tribunemedia.net
CANADIAN resident Bruno Rufa claims that immigration officials caused him embarrassment when they "paraded" him before a crowd of onlookers at the Coral Beach Condominium after being arrested at his residence on January 30. The claim emerged in an affidavit by Mr Rufa in judicial review proceedings in the Supreme Court on Monday.
Fred Smith, QC, is representing Mr Rufa, who was charged with working illegally in the Bahamas and subsequently deemed an undesirable and deported by Bahamas Immigration officials.
Justice Petra Hanna-Weekes is presiding over the judicial review brought by Mr Rufa against the Minister of Immigration, the Director of Immigration and the Attorney General's Office. He is challenging the decision of the Director of Immigration declaring him an undesirable and that his presence is not conducive to the public good.

Mr Rufa is a condo-owner at Coral Beach Condominiums and has resided there for 15 years. He is also president and serves as a director on the condominium's board, positions he has held for the last 10 years.
In his affidavit, the Canadian resident said six immigration officers came to his residence around 11.30am on January 30 to arrest him.
"They asked it they could come into my home. I said yes," he recalled. "The first thing I was told was that I was being 'arrested and charged for working illegally'. I denied this and started asking questions as to the allegations against me. A discussion ensued, after which they repeated that I was being arrested. They demanded that I give them my Canadian passport. I did as they ordered and gave my passport to one of them."
Mr Rufa was then asked for the condominium apartment number of fellow director, Nanci Salvisburg, before being taken into custody by immigration officers.
"Instead of taking me through the direct, shortest and most convenient route through the reception area, which is the usual entrance and exit of Coral Beach and which is least populated with people, the three officers that were in my home took me through the Coral Beach courtyard, to the pool and bar area. One was in front of me; one was by my side and one was behind me.
"They paraded me before all of the many unit owners, guests and staff. This was at the height of the visiting season for homeowners and guests at Coral Beach and at 11.30 am, there were many people out and about at the pool area. The exit point that they took me to was at the pool parking lot. There were many onlookers. I was very embarrassed."
Mr Rufa said that onlookers gathered in the parking lot, watching as he was placed in the back of an immigration van. He said Mrs Salvisburg was also paraded through the pool area to the van and ordered to sit next to him.
Both were taken to the Immigration Department, where they were placed in separate cells and had their photographs taken. After speaking to their lawyer Carey Leonard, Mrs Salvisburg was released around 4pm that day but Mr Rufa was taken to jail at the Police Headquarters.
He was released late that evening into the custody of his attorney, Mr Smith, on the understanding that he was to appear before the Magistrates Court on February 2. Mr Rufa appeared before Magistrate Debbie Ferguson and was charged for allegedly engaging in gainful occupation contrary to Section 29 (1) and (2) of the Immigration Act. He was was released on $2,500 cash bail and the proceedings were adjourned to February 18.
When Mr Rufa and Mr Leonard appeared back in court, Magistrate Ferguson adjourned the proceedings to March 12 and extended his bail. However, Immigration Officer (IO) Sands then informed the court that the Director of Immigration had decided that Mr Rufa was an undesirable person, and was therefore being taken into custody by the Immigration officers to be deported as soon as possible.
Despite protests from his attorney, Mr Rufa was arrested and taken into custody for deportation that same day. "I was devastated and shocked. It was unbelievable," he describes in his affidavit.

Mr Rufa was taken into custody and transported to the Immigration Department, where he was again put into a cell. About 20 to 30 minutes later he was taken to see Senior Immigration Officer Jerome Hutcheson II, who informed him that he was being ordered off the island that day. "I asked: 'since I am being deported is Immigration paying for my flight?' Mr Hutcheson did not answer me nor did he correct my using the word 'deported'."
In an affidavit filed on August 25, Mr Hutcheson said that he was not of the view that Mr Rufa was deported, but rather that he was seen out of the country by immigration officers. He further noted that persons who are deported are asked to remain outside the Bahamas and that was not the case for Mr Rufa.

Mr Smith accused Mr Hutcheson of seeking to find some way of excusing what immigration officers did on February 18 when they "illegally" deported Mr Rufa.
Mr Hutcheson, he said, in his affidavit had also stated that Immigration Officer Sands made an inaccurate statement when he told the Magistrates Court that Rufa was to be deported, when in fact, Mr Rufa was to be brought back to the Immigration Department for consultation on August 24.
In response to Mr Hutcheson's evidence, Mr Rufa stated in his affidavit that the senior immigration officer did not inform him that he could return to the Bahamas on time for the hearing in Magistrates Court or otherwise at the discretion of the Immigration authorities.

The Canadian resident was taken in an immigration van to his residence to pack a bag and book a flight out of the country.

Mr Rufa said he was escorted by three or four officers. "On this occasion we entered the normal way through the reception. I was again embarrassed, with Coral Beach staff and some guests observing me being taken by these officers," he recalled.
According to Mr Rufa, when they arrived at his apartment, two officers came in and two remained outside the front door.
"My partner, Sandra Georgiou, was there and I explained to her that Immigration had decided I was an undesirable and that I was now being deported. While I was packing, my partner was making flight arrangements and told IO Cooper that there was a flight available to Toronto, our home, through Miami at 5.30pm. OI Cooper told Sandra: "No. Bruno has to be on the first available flight leaving the Bahamas and we don't care where it goes to," Mr Rufa said in his affidavit.
Mr Rufa said that the immigration officer complained that Ms Georgiou was taking too long. "He told me to make sure I had my credit card with me and then IO Cooper said 'let's go to the airport, you can book from there'," he recalled.

Mr Rufa was transported to the airport in the van and escorted by two officers to the American Airlines ticket counter.
"There was quite a line of people waiting at the American Airlines counter. IO Cooper left me with an officer behind the queue and he walked to the front of the line and spoke to the ticketing agent at the American Airlines counter. He waved to me and the officer to come to the front, which we did. That was embarrassing because there were people in the line up that I knew and who knew me," he said.

Mr Rufa said IO Cooper gave him his passport to present to the ticketing agent and he booked and paid for the first flight out of Grand Bahama to Miami at 3.08pm.
Shortly afterwards, Mr Rufa said that he noticed that a camera crew from the government-owned and operated ZNS TV was filming him inside the airport at the ticketing area. He said IO Cooper then escorted him to the security area for entry to US Customs pre-clearance area and through to US Customs, and to the US pre-clearance departures lounge area to await his flight.
"Once I had gone through US Customs, it was the point of no return, meaning that persons could not go back through US Customs and back into the rest of the airport. IO Cooper then left me," he said.
Mr Rufa stated that, contrary to the evidence of Mr Hutcheson, he was not allowed to remain in the main area unescorted. "I was not free to move around the airport. I was always escorted and felt under arrest at all times. Contrary to Mr Hutcheson's evidence, I was not merely 'advised' to leave the Bahamas, I was compelled to leave," he said.

Mr Rufa stated that it was not his wish to leave the Bahamas at that time or to fly to Florida. "I booked the flight and boarded the airplane on the instructions of Officer Cooper and against my own will," he said. "My understanding at all times (given, inter alia, what IO Cooper had said in court; the fact that I was escorted by four immigration officials; placed in a jail cell; put before Mr Hutcheson who told me I was being ordered off the island; had my passport confiscated; was ordered to book the first flight out of the Bahamas, escorted at all times and not free to leave) was that I was not permitted to remain in the Bahamas and was being forcibly removed."
After landing in Miami, Mr Rufa's attorneys had informed him that the court had granted an injunction preventing his deportation at 3.20pm, but his flight had already departed for Miami at 3.08pm.
When Mr Rufa tried to return to the Bahamas, he was prevented from boarding the flight back around 8pm that evening by officials at Miami airport, who had informed him that the Department of Immigration had placed a stop on his re-entry into the Bahamas.
Mr Smith asserted that Rufa was "illegally deported" and that there was no deportation order in place for his removal from the country. "Whatever they want to call it: removed, seen out of the country, expelled, or deported, that's what the decision was," he said.
Mr Smith said that the decision to declare Mr Rufa an undesirable and that his presence is not conducive to public good, was irrational on the part of the government. He told the court that all necessary procedures were not followed under Section 40 of the Immigration Act in order to deport Mr Rufa. He noted that Rufa's criminal case in the Magistrates Court is still not concluded.
"If satisfied that the law have been breached, the next step would be a process where the Minister of Immigration would then consider whether to exercise his discretion under Section 40 to grant a deportation order stating the time he was to leave, and the seven-day period in which he has to appeal the deportation," Mr Smith said.

"To physically remove and dispel a person from the jurisdiction is an extremely draconian act," said Mr Smith. "To be put in the detention centre and physically removed without any prior conviction in the court, and to be deemed an undesirable, the law establishes a very liberal process which must be required before a person is removed."
Mr Smith said the process was put in place to give persons an opportunity to appeal - about seven days - to the Governor General.
"It allows for due process so that persons are not picked up and escorted out of the country. If they can do it to Mr Rufa, they can do it to anybody," he said.

Mr Rufa's attorney has filed an application in the Supreme Court for an extension of his time in the Bahamas.