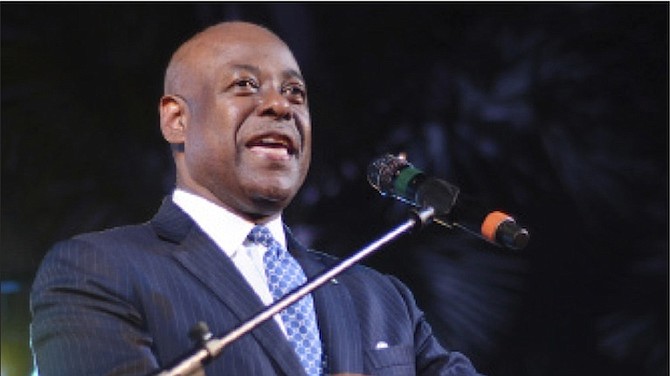 By RICARDO WELLS
Tribune Staff Reporter
rwells@tribunemedia.net
TOURISM Minister Obie Wilchcombe yesterday vowed that the main public access point to Cabbage Beach would remain open, despite closure notices being posted on the path's entry gates.
According to Mr Wilchcombe, discussions between the government and the property's owner, Access Industries, are underway to ensure that the easement, which is adjacent to the Riu Paradise Island Hotel, remains open.
Signs attached last week to the sliding metal entry gates to the path indicated that, as of October 8, people will no longer be permitted access to the beach over the privately-owned land, which is scheduled for development.
The West End Grand Bahama and Bimini MP said: "We are going to sit and talk with the proprietors, but at the same time they would know that spot would be open for Bahamians."
However, despite claims by Mr Wilchcombe, Access Industries explained that while discussions are underway between themselves and the Bahamian government, current talks are focused on the development plans for the land and not the removal of the closure signs.
Christopher Beattie, spokesman for Access Industries, said: "As required by its sale agreement to Access Industries, Brookfield will relocate the current public beach access point, located on the vacant parcel of land adjacent to the Riu resort, to an existing access point owned by Brookfield located on Garden Drive, off Paradise Island Drive."
In 2014, the ownership of Cabbage Beach was transferred from Atlantis (Brookfield) to a subsidiary of Access Industries, the One & Only Ocean Club.
That property is currently undergoing a $50m expansion. Work started in June and the resort is currently closed.
On Monday, a statement from Atlantis noted that access provided through the property during the time period it owned the land was granted on a "temporary basis."
The statement read: "It should be noted that public notice with respect to terms and conditions of access have been posted for years, advising that access for commercial or recreational purposes over the privately owned property in question has always been on a temporary basis and as authorized by the owners."
Mr Wilchcombe, however, insisted that the government would not sit back and allow Bahamians to be denied access to the popular beach.
"We our not going to back away from our position. The easement is open and will remain open to the Bahamian people," he added.
The access has been in use for decades for the public and vendors on the beach. The metal fences enclosing the easement have only been added in the past couple of years.