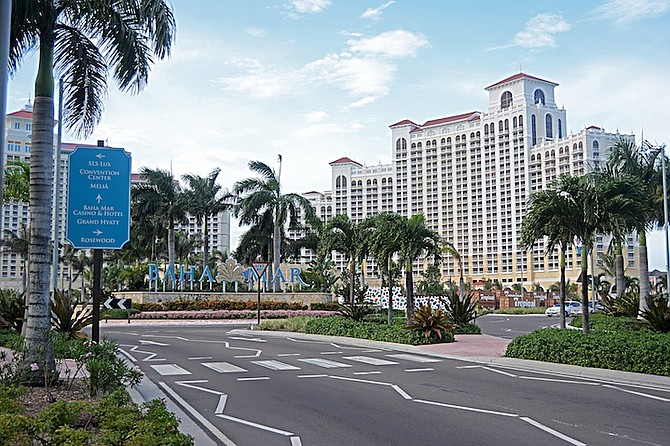 EXECUTIVES and directors of the Bahamas Chamber of Commerce and Employers Confederation met with the joint provisional liquidators for Baha Mar this week in an effort to keep the lines of communication flowing between the business community and the stalled project.
"We know how much work the joint provisional liquidators have before them so we were pleased that the Bahamian lead on the liquidators' team, Edmund Rahming, was able to sit with us to engage in early discussions about the best way forward," said Chamber CEO Edison Sumner in a press release.
Mr Rahming is managing director of KRyS Global (Bahamas), which was appointed with UK-based AlixPartners by the Supreme Court to act as joint provisional liquidators until the court hears the winding-up petition of the Baha Mar Group of companies. That court date is set for November 4.
"Until that time, we appreciate that the joint provisional liquidators' role is to preserve the assets," said Mr Sumner. "While we would have liked for the Baha Mar matter to be resolved through arbitration or mediation with all parties sitting at the table, we are pleased that at least one of the mandates of the joint provisional liquidators is to promote a solution among all parties for the best way forward to get the resort opened. We are prepared to assist in any way possible to move the business forward. Many of our members are directly involved as they have made investments to participate in the Baha Mar dream whether through contractor or vendor services, retail or dining or other. But we know the greater impact on the entire economy in terms of potential revenue, jobs, entrepreneurial opportunities and a new product for a country whose major economic driver is tourism."
The chamber's directors who met with Mr Rahming included Michael Maura, CEO of Arawak Port Development Limited; Tara Morley Nolan, of Cole's of Nassau; and Lana Lee Brogdon of New Oriental Cleaners.
According to Mr Rahming, the meeting was open and co-operative.
"As joint provisional liquidators, it is our responsibility to preserve and protect the assets and toward that end we are pouring through documents to establish a clear picture of the factual status of project," said Mr Rahming.