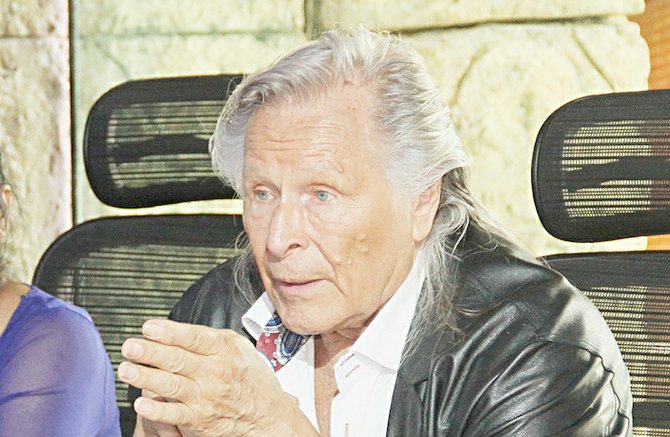 By NICO SCAVELLA
Tribune Staff Reporter
nscavella@tribunemedia.net
A SCHEDULED court hearing involving Lyford Cay billionaire Peter Nygard was adjourned yesterday after counsel revealed that the Canadian fashion designer was too ill to attend yesterday's proceedings.
Fred Smith, QC, lawyer for environmental group Save The Bays (STB), informed Justice Rhonda Bain that Mr Nygard's attorney, Elliot Lockhart, QC, had requested an adjournment of yesterday's proceedings for two reasons, the first being Mr Nygard's reported medical complications which made it impossible for him to make it to court yesterday.
The other reason, Mr Smith said, was that Mr Lockhart had a murder trial that conflicted with yesterday's proceedings.
The Tribune understands that a notice of motion to commit was served to Mr Nygard last month by STB for dredging he allegedly conducted during March and April of this year.
That comes against the backdrop of Justice Bain's ruling in 2013 that until the conclusion of judicial review proceedings challenging the legality of the construction of a groyne and the dredging of the sea bed off Nygard Cay, neither activity could continue. However, since then, STB has submitted photographic evidence in court purporting that the exact opposite has allegedly happened.
Yesterday, Mr Smith agreed with Mr Lockhart's request for an adjournment. However, Mr Smith subsequently requested that going forward, any summonses and/or documents would be served to Mr Lockhart's chambers, Lockhart &Co, suggesting that trying to serve Mr Nygard personally is too laborious a task.
This, however, prompted a brief legal back and forth between the two QCs, with Mr Lockhart contesting Mr Smith's proposal.
Justice Bain, however, quelled the brief quarrel by ordering that any summonses or documents be served to Mr Lockhart's chambers.
She subsequently adjourned the matter to Thursday, October 1, at 3pm.
Meanwhile, Mr Nygard is also expected to return to court on September 28 for the continuation of proceedings against him concerning his alleged contempt of court. That too, stems from Mr Nygard, on May 7, being served by STB with a legal notice of its application accusing him of breaching the terms of the injunction barring him from engaging in development activities at his home in Lyford Cay.
In addition to being ordered to appear on September 28, Mr Nygard was also informed that he will be cross-examined concerning the allegations brought against him.
The Tribune also understands that a site visit is scheduled to take place during the week of September 28.
STB's battle with Mr Nygard over the construction/development activities at his Lyford Cay home stem from allegations that the activities have led to substantial growth of the property. The group claims that the Lyford Cay resident has almost doubled his property's size, from 3.25 acres to 6.1 acres, since he acquired it in 1984, by allegedly reclaiming Crown Land from the sea.
The advocacy group is alleging that Mr Nygard achieved this without the necessary permits and approvals, claims that have been denied by the fashion designer.