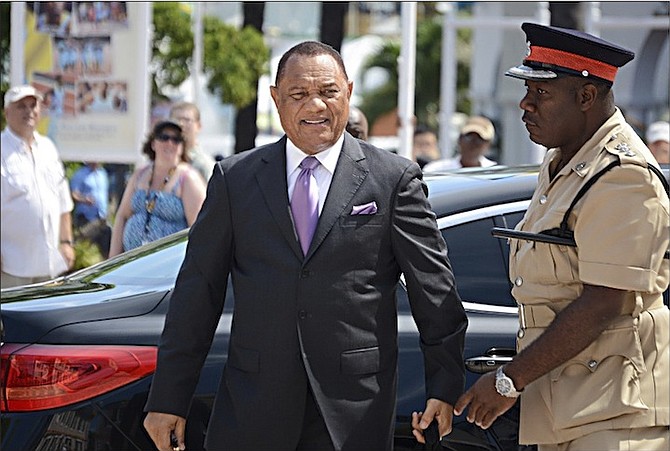 By RASHAD ROLLE
Tribune Staff Reporter
rrolle@tribunemdia.net
PRIME Minister Perry Christie avoided saying yesterday if he will make a bid to remain leader of the Progressive Liberal Party at its convention in November, but told reporters: "I am the leader of the party."
When asked by a reporter about his political plans, Mr Christie jokingly asked: "You want someone to beat me, hey?"
He then rushed off to a special Cabinet meeting.
His statements came moments before Deputy Prime Minister Philip "Brave" Davis told reporters that "a lot of people" support him for the leadership post, adding that he has "always been ready" to ascend to that position.
Mr Davis, however, declined once again to say if he will make a leadership bid in November or contest Mr Christie, telling reporters that he will disclose his intentions in "due course."
Asked if he has started making assessments about the support he has in the party, he said "not yet," but added that he is "warmed by the support" he has received from those who want him to make a leadership bid.
He declined to comment when asked if he has been in talks with PLP stalwart councillors, who will ultimately decide the party's leader when they vote at the November convention.
Mr Christie, 72, has not given any clear indication of what his next move in politics will be. He has served two, non-consecutive terms as prime minister and has been the PLP's leader for 18 years.
Some in the party have suggested that he step aside and allow a new leader to take his place and marshal the party into the next election.
Former PLP Senator and MP Philip Galanis has publicly voiced his support for Mr Davis to run for the party's top post.
Mr Davis and Tourism Minister Obie Wilchcombe are the only sitting members of Parliament who have openly expressed an interest in running for leader of the PLP, though both have previously said they would only seek the nomination if Mr Christie declines to do so himself.
Mr Wilchcombe has repeatedly stressed his allegiance to Mr Christie. However, some have speculated that Mr Davis will run for the PLP's leader even if Mr Christie offers himself again.
Golden Gates MP Shane Gibson, who will serve as the party's chairman for the convention, told reporters recently that he believes the people interested in vying for leadership are experienced enough to know when to declare their intentions, whether doing so early would benefit them or if it is better to do so at the "last minute."