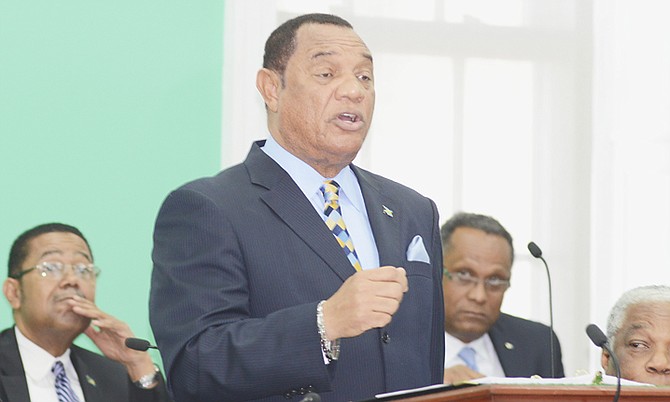 By TANEKA THOMPSON
Tribune News Editor
tmthompson@tribunemedia.net
PRIME Minister Perry Christie reportedly told a crowd of Progressive Liberal Party supporters in North Andros last night that he plans to offer himself for re-election as leader of the party at its November convention.
According to a source, who was at the PLP branch meeting in Nicholl's Town, Mr Christie reportedly told the crowd to resounding cheers that he will go in as leader and will come out as leader.
The prime minister was in North Andros with area MP and Minister of Health Dr Perry Gomez along with a team from state broadcaster, ZNS.
Last night, Mr Christie also criticised critics who have complained that voters are "tired" of him.
". . .(Someone) was on the radio station saying, 'people tired of Christie.' He should have been here tonight with y'all, so y'all could tell him who tired," Mr Christie said, according to audio of an excerpt of his speech which was circulated last night. "We have no time to be distracted by foolishness, the government of this country is too important to allow us to be distracted by foolishness."
Mr Christie also told the crowd: "We are going to make this country work. I will make it work for you and you are going to help us make it work for you."
Meanwhile, multiple sources within the PLP have said that Deputy Prime Minister Philip "Brave" Davis will also join the leadership race, regardless of Mr Christie's actions. The sources maintain that Mr Davis was working on the belief that Mr Christie would not offer himself for re-election, because he previously promised that the 2012 election cycle would be his last. Mr Davis could not be reached for comment last night.
Reacting to the news last night, a well-placed source in the PLP said a decision by Mr Christie to run again for party leader would upset many in the organisation.
According to the senior PLP, at a special Cabinet meeting on Wednesday, Mr Christie accused Mr Davis, his deputy leader, of trying to undermine him.
"Brave stood up to him and said 'I intend to do what I have to do, and I intend to explore all of my options, because I don't expect that you will be on the ticket,'" the PLP source, who spoke on the condition of anonymity, said.
"He (Mr Christie) never told them he was running. Yesterday (Wednesday) they met for a few hours and he was livid and pained that someone would attempt to go up against him in an election. Brave said he did not expect him to be a candidate because he (Mr Christie) told the public this would be his last election (in 2012). Brave said he expects Obie (Wilchcombe) and others to run, not Christie."
The source added that the prime minister has told members of the PLP that his legacy is not finished.

However, this angered the veteran PLP.
"What Mr Christie does not realise is all of the studies indicate that the PLP cannot win with him, I don't know why he is so delusional that he thinks he cannot be challenged.
"Each man and woman has to ask themselves in this next election, 'Can I win with Christie?' If he goes to convention he will beat Brave, but he will still lose because Brave wouldn't be there to raise the money and organise everything. He can win the battle, but lose the war."
"Brave will contest, he won't care if he lose, win, lose or draw – he will run against Christie, and probably get beat."
Earlier on Thursday, Golden Gates MP Shane Gibson insisted that he would "absolutely" support Mr Christie if he were to offer himself for re-election.
Mr Gibson, who is the convention's chair, said he was not aware at this time who was set to contest any of the PLP's leadership positions.
However, some in the PLP have openly said they would support Mr Davis making a leadership bid at the convention.
"I think (Mr Davis) is a person who has delivered on promises he has made," former PLP Senator and MP Philip Galanis told The Nassau Guardian last week.
"He responds to people in need of assistance. That's what we need. We don't need people who are not going to return phone calls and who are not going to step up to the plate and assist persons who need government assistance."
Tall Pines MP Leslie Miller has also said he supports Mr Davis' possible leadership bid.
Earlier this week, both Mr Christie and Mr Davis skirted questions about their plans for the convention.
On Wednesday, when asked if he will offer himself for re-election, Mr Christie would only say: "I am the leader of the party".
When pressed on the issue, Mr Christie jokingly asked: "You want someone to beat me, hey?"
Moments before, Mr Davis told reporters he would reveal his leadership intentions in "due course".
Asked if he has started making assessments about the support he has in the party, Mr Davis said "not yet," but added that he is "warmed by the support" he has received from those who want him to make a leadership bid.
Mr Davis and Tourism Minister Obie Wilchcombe are the only sitting members of Parliament who have openly expressed an interest in running for leader of the PLP, though both have previously said they would only seek the nomination if Mr Christie declines to do so himself.