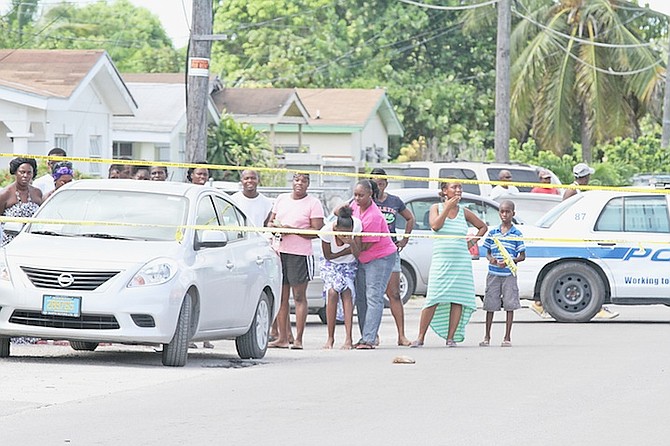 By NICO SCAVELLA
and DENISE MAYCOCK
A 23-year-old man was shot and killed in Nassau Village yesterday morning while on his way home, police said yesterday.
Chief Superintendent Paul Rolle, officer-in-charge of the Central Detective Unit told The Tribune that the man, a local resident, was on Alexandria Boulevard on his way home after leaving a barbershop around 9.30am when a light blue Hyundai Elantra pulled up.
The occupants opened fire, hitting the man multiple times in his body. He died on the scene.
Police have not yet identified the victim, but The Tribune understands he is Shannondor Seymour. His death pushed the country's homicide count to 112 for the year, according to The Tribune's records.
Chief Supt Rolle also said police were "processing" a Hyundai that was abandoned in bushes in the South Beach area shortly after yesterday's shooting.
According to Chief Supt Rolle, police received word of gunshots being discharged at Alexandria Boulevard and officers responded, finding an adult male suffering from gunshot injuries to the body. EMS personnel were summoned to the scene, where they pronounced the victim dead.
"What we know is this male had just left the barbershop and was walking, going to his residence, when persons in a light blue Hyundai Elantra pulled up on him and opened fire, hitting him multiple times to the body," Chief Supt Rolle added. "A short time later, we received information of a Hyundai being abandoned in bushes in the South Beach area and we have officers on the scene now processing that vehicle."
Yesterday's murder came days after a man was shot to death in Freeport, pushing the murder count on Grand Bahama to 13 for the year.
That shooting occurred at an apartment complex in Hudson Avenue around 9pm on Thursday and a video of the victim lying on the ground in a pool of blood went viral on social media.
People were heard crying and shouting for onlookers to call 911. The victim, who The Tribune understands is Antonio "Toe" Miller, died at the scene.
Senior Assistant Commissioner of Police Emrick Seymour told reporters that police were alerted to gunshots being fired in the area and dispatched a team of officers to investigate.
On arrival, he said, officers discovered the body of a man lying on the ground with what appeared to be multiple gunshots about the body.
ACP Seymour said initial investigations revealed that the victim was leaving an apartment in the Hudson Avenue area when he was accosted by a masked armed man, who shot him several times in his body.
EMS personnel pronounced the victim dead at the scene, he said.