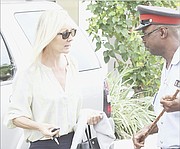 By LAMECH JOHNSON
Tribune Staff Reporter
ljohnson@tribunemedia.net
DONNA Vasyli will be called on today to indicate whether she will give a defence to the murder charge against her in the fatal stabbing of her husband who was found dead at their Old Fort Bay home earlier this year.
The 12th day of the 55-year-old's murder trial was short-lived yesterday.
Senior Justice Stephen Isaacs dismissed the jury until Tuesday at 2pm for the continuation of the case into the March 24 murder of 59-year-old Philip Vasyli.
"Following on certain legal arguments had, we will proceed with trial but not today," the judge explained to the 12-member jury who had been previously excused from duty for two days.
As the accused does not have the legal burden to prove her innocence, she has the right to remain silent and/or call witnesses in her defence. The 55-year-old's alternative option is to take the witness stand and be subjected to cross-examination.
Last Thursday, there were discussions between lawyers for the Crown and the accused, which were heard in the absence of the jury.
A day prior, Crown prosecutors closed their case against the accused with the testimony of Inspector Michael Johnson.
The jury saw Insp Johnson's videotaped interview with the widow while she was in police custody. During that interrogation, the officer suggested to the widow that she stabbed her husband for embarrassing her in front of their invited guests with his drunken state.
She strongly denied the accusation in the presence of her lawyers at the time, Elliot Lockhart, QC, and Judith Whitehead.
Mr Lockhart and Murrio Ducille appeared for the accused in yesterday's ruling on the legal discussions.
Acting Director of Public Prosecutions Garvin Gaskin and Assistant Director of Public Prosecutions Neil Braithwaite appeared for the Crown.
Vasyli is currently on $200,000 bail.