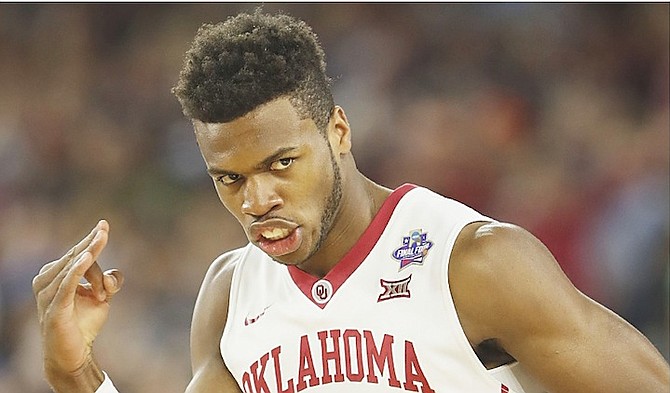 By RENALDO DORSETT
Sports Reporter
rdorsett@tribunemedia.net
HOUSTON, Texas — Kris Jenkins was caught in midair as he tried to draw a foul and just as he was about to lose the the ball or be called for a travel, he hurled a desperation three that fell through the bottom of the net to put the Wildcats up by 40.
That was the kind of night it was for Villanova en route to the largest margin of victory in Final Four history.
Villanova shot a ridiculous 71 per cent from the field, and 61 per cent from three-point range in their 95-51 win over the Oklahoma Sooners at NRG Stadium in Houston, Texas, Saturday night. The Sooners' loss brought an end to the storied collegiate career of Bahamian superstar Buddy Hield.
Hield finished with just nine points and seven rebounds in his second lowest scoring total of the season.
A dejected Buddy Hield credited a staunch Villanova defence and a team that made shot after shot at the right time.
"I have to credit them. They made it tough for me. They made shots when they needed to, we tried to find a way to make shots, just didn't happen," Hield said. "We couldn't find a rhythm on how to stop them. We had momentum early in the second half then Hart got a three-point play to swing the momentum back. They shot the ball efficiently and when teams do that there's not much you can do."
Jason Hart led five Wildcats in double figures with a game high 23 points. Jenkins scored 18, Ryan Arcidiacono added 15, Mikal Bridges scored 11 while Phil Booth and Daniel Ochefu each finished with 10. Jordan Woodard was the only Sooner to reach double figures with 12 points.
Hield opened the game with three pointer from the top of the key over the outstretched hands of Arcidiacono. He went on to score five of the Sooners' first seven points. Both teams traded baskets early but the Sooners found it difficult to keep pace with the hot shooting Wildcats. Villanova took a 23-17 lead on a Hart rebound and putback.
Jenkins gave Villanova their first lead of double figures for the game, a layup gave Nova a 28-17 lead in the midst of a 12-0 run.
They took a 42-28 lead into the half and came out just as hot in the second half. Villanova scored 53 points on 31 possessions, including an incredible 25-0 run at one point.
The Sooners' offence centred itself all season on good ball movement amd winning one-on-one matchups. Villanova stifled all those opportunities with quick defensive rotations and limiting "drive and kick" opportunities.
The Sooners would trim the deficit to nine when Jordan Woodard made a pair of free throws and followed his own miss on the third with a layup to make the score with 16:05 left to play.
Hart's aforementioned threepoint play stopped the run and the Sooners never threatened again.
Villanova's win margin topped the 34-point Final Four wins by Cincinnati over Oregon State in 1962 and Michigan State over Penn in 1979.
The Wildcats now have four wins in the tournament of at least 19 points, the only close game a 5-point win over overall No. 1 seed Kansas in the Elite Eight.
Hield reflected on his collegiate journey and thanked Bahamian fans for their support as he prepared for his next step.
"I want to say thank you a lot. Just coming where I came from, I'm just glad everybody back home got to see me play, hopefully I inspired the young kids back home to be the next me or even better than me," Hield said. "Got to go chase my dreams next. Play in the NBA if I get a chance, I'll take the opportunity and make the best out of it."