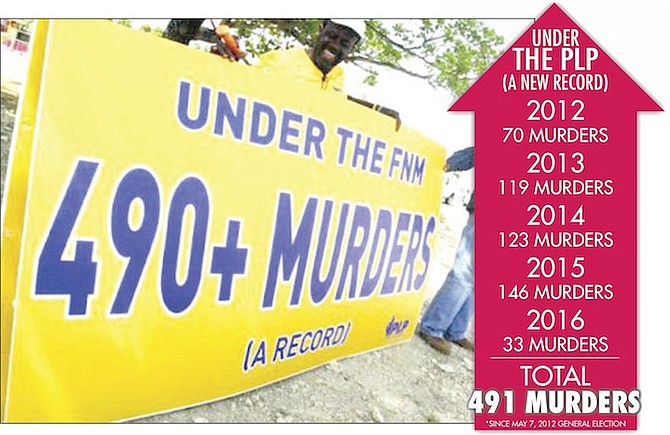 By KHRISNA VIRGIL
Tribune Staff Reporter
kvirgil@tribunemedia.net
FREE National Movement (FNM) Leader Dr Hubert Minnis yesterday chided the "do nothing" Christie administration for allowing crime to skyrocket to a combined 491 killings over the last four years, according to The Tribune's records.
With nearly a year left before the next general election, Dr Minnis lamented the country's current "out of control" situation as he reflected on the Progressive Liberal Party's (PLP) infamous murder posters, which were erected during the 2012 election season.
The billboards were placed in several popular locations across New Providence and read "Under the FNM government 490-plus murders".
However, according to statistics gathered by this newspaper, murders under this PLP administration in nearly four years are about to surpass the more than 490 homicides that took place in the five years under the previous FNM administration.
From May 7, 2012 - when the PLP won the election - to December 2012 there were 70 recorded murders. In, 2013, police recorded 119 murders. In 2014 and 2015, police recorded 123 and a record 146 murders respectively.
The murder count for 2016 up to April 3 stands at 33, according to The Tribune's records, meaning 491 homicides have occurred under this administration in three years and 11 months.
Dr Minnis claimed this is evidence of a severe failure.
"Crime is completely out of control," Dr Minnis said. "They have no control on crime and this do nothing government has failed us on the most basic issue and that is protecting our citizens.
"This do nothing government has mothers, fathers, sisters, brothers, and families living in fear. They promised jobs and to solve crime among other things, but it was because and only because they wanted to win the election at all costs.
"Those murder posters were proof that they will do anything to win an election."
He added: "I would prefer to lose an election, than to lose a country. They prefer to lose the country rather than an election.
"They are not concerned about this country. The concern is on them. Whatever it means or whatever they have to do is what they will do."
The Killarney MP urged Bahamians not to be fooled into voting for the PLP again. He said the country would only continue to deteriorate under its current leadership.
"Bahamians realise they have been fooled and they want the Christie administration to be out because the country continues to deteriorate under this government. We must be saved and to be saved this administration must be voted out.
"This government believes it's all about them. I ask all Bahamians that if we want a better Bahamas it is essential that those who care about themselves must be removed. We are enduring the pain and the frustrations that they are putting on us," Dr Minnis said.
In May 2014, after saying he did not regret his party's decision to erect murder billboards throughout New Providence, Prime Minister Perry Christie admitted that in hindsight he would not do it again.
Responding to questions from the media at a press conference in the Cabinet Office, Mr Christie said at the time: "I think we must all learn in light of our experiences. I've passed the stage of whether there is regret. Whether I would do it again? The answer is no. You don't regret in that sense; you move on and you learn."
However four months earlier, the prime minister said he does not "regret anything in a political campaign."
"It's a question of taste. One can question that, but no. I stand and fall on the campaign that we had. The campaign succeeded, we have to govern," Mr Christie said in January 2014.
In November, Minister for Tourism Obie Wilchcombe, in describing the record murder count for 2015 as "disgraceful", conceded that the PLP made crime a political issue, but said the party has learned from that experience.
Mr Wilchcombe told The Tribune that instead of pointing the finger at politicians for the increase in murders, Bahamians should "get angry and march against it".
In the past, Deputy Prime Minister Philip "Brave" Davis has defended the billboards. Some of them were placed in tourist hot spots including Montagu and the Saunders Beach roundabout.
After the then government tore down some of the signs, Mr Davis accused the Ingraham administration of using "strong arm tactics" to conceal the facts.
The PLP campaigned on a promise that it had the answers to crime and murders, while the Ingraham administration did not.