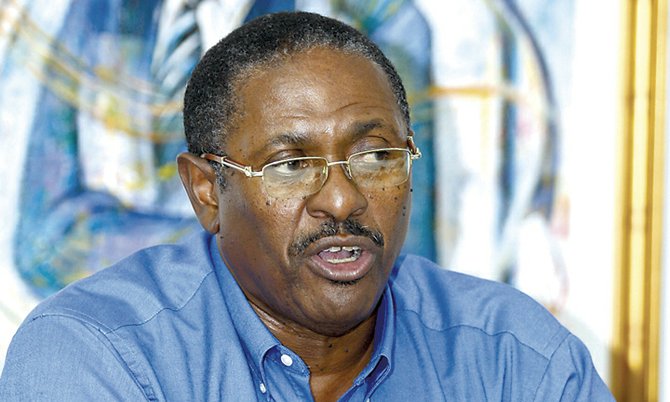 By SANCHESKA BROWN
Tribune Staff Reporter
sbrown@tribunemedia.net
PLP Chairman Bradley Roberts has said the inability of the FNM to attract viable candidates to replace Michael Pintard as chairman "underscores yet again the depth of the fracture within the FNM under the leadership of Dr Hubert Minnis."
In a press release yesterday, Mr Roberts said Acting FNM Chairman Brensil Rolle's decision not to run for chairman has nothing to do with Mr Rolle's bid to run in Garden Hills. Instead Mr Roberts said Mr Rolle "discovered that the sanitisation of the chair left by his disgraced predecessor was just too much to stomach."
The nomination process to decide who will be the FNM's next chairman ended Monday night, with a vote expected to take place during a special council meeting on April 14.
Last week the party said Sidney Collie, a former FNM minister of local government, had been nominated for the position. Yesterday, Rodney Moncur, who ran unsuccessfully on the Democratic National Alliance's ticket in the 2012 general election, announced he planned to vie for the post as well.
"This new development only underscores yet again the depth of the fracture within the FNM under the leadership of Dr Minnis; everything Minnis touches seems to turn to dust," Mr Roberts said.
"It is important to note that Brensil Rolle is yet to secure the party's nomination so all this talk about focusing on winning Garden Hills is premature, a smoke screen, a red herring and a cop out. Further, while I served as chairman and member of Parliament, the PLP was victorious in two general elections and two bye-elections so any competent politician can effectively manage both assignments.
"This latest debacle is an issue of lack of confidence in the leadership of Dr Hubert Minnis who is clearly unable to overcome the intra-party tribalism that is eating away at the organisation like a malignant cancer."
However, in a press release issued yesterday, Mr Rolle said Dr Minnis has his full support and Mr Roberts should "stay out of the FNM's business."
"The FNM's Leader Dr Hubert Minnis brings a refreshing brand of honesty to frontline politics, and his journey from poverty to a successful physician and businessman serves as an inspiration, particularly to young Bahamians," Mr Rolle said.
"Roberts' misleading attacks on Minnis is a revealing admission of him and the PLP wanting a weaker opponent in the 2017 general election. Minnis remains focused on the work of the FNM and creating change for a new and better Bahamas.
"Dr Minnis has my full support," Mr Rolle added. "As for my decision not to run for chairman of the FNM, Roberts does not speak for me or the FNM. I wish to pursue the candidacy for the Garden Hills constituency and give the fine people of that area my undivided attention."
The move to elect a new FNM chairman comes after Mr Pintard resigned on March 21 over questions stemming from his involvement in a controversy that also involved fashion designer Peter Nygard.
According to an affidavit filed by the environmental group Save The Bays on March 9, Mr Pintard was named as being the person who uncovered an alleged murder for hire plot concerning Mr Nygard.
It was revealed he met several times with "gang members" Livingston "Toggie" Bullard and Wisler "Bobo" Davilma, the two men allegedly hired by Mr Nygard. After the affidavit was filed, audio recordings circulated on social media, purportedly of Mr Pintard discussing payment for the two men for their testimony.
Mr Pintard also defended himself against Mr Roberts' taunts, calling the PLP chairman "nasty and misleading" and claimed the PLP's "vicious and dishonest campaign" has been a deflection from their own "unethical behaviour, to protect an important funding source and to distract the Opposition from its mission".

In a statement last night Mr Pintard said his resignation was about making sure the public knew "that I did not do anything wrong in my professional or political capacity".
He said the real disgrace is the PLP's refusal to remove the clear impression that the government "has been bought and that its agenda has been hijacked by big money", saying that its "chief backer implied as much".
He blamed the PLP for a "scary pattern of behaviour being displayed by the governing party" and accused it of seeking to criminalise, bully and defame those that criticise them openly and clandestinely. He cited vendors on Paradise Island, former FNM chairman Darron Cash, prominent pastors, noted investors, journalists as having suffered "and now it's my turn".

He listed nine critical questions that the government had failed to answer, including their silence on the damning Rubis report while lives hung in the balance and lack of action taken against a Minister accused of bullying an island administrator to make an inappropriate decision.