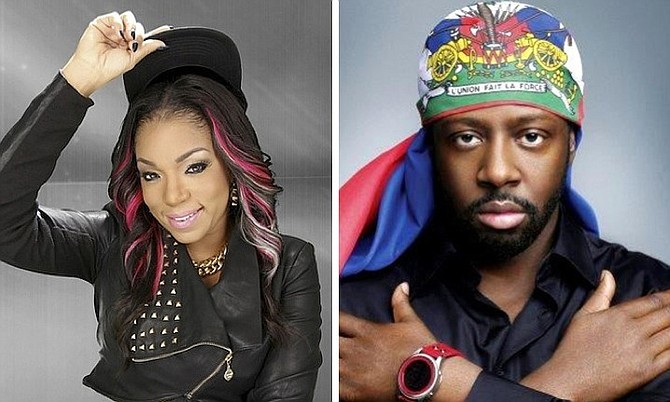 By KHRISNA VIRGIL
Tribune Staff Reporter
kvirgil@tribunemedia.net
THE Bahamas National Festival Commission yesterday revealed its performance lineup for the Nassau leg of this year's Bahamas Junkanoo Carnival which includes Trinidadian soca queen Destra, Grammy award winning Haitian hip-hop artist Wyclef Jean and Jamaican reggae star Tarrus Riley.
The festival, which runs in New Providence from May 5 to 7, will feature a mix of Bahamian artists and other international performers. The Tribune understands Destra will close the festival's concert, although organisers have stressed no one is "headlining" the event. It is unclear how much money the government has spent to engage the foreign acts.
This comes despite the fierce criticism directed at the Christie administration last year for failing to put more emphasis on Bahamian talent and engaging an international headliner.
Trinidadian singer Machel Montano closed the carnival's concert last year, despite disapproval from some local performers about a foreign act being paid handsomely to perform here.
"The strength of Bahamas Junkanoo Carnival will not rest on the shoulders of a single performer or headliner but on all of our all-star artists, with the Bahamian and international acts being equally as important to creating the overall brand experience," said BNFC Chairman Paul Major yesterday in a press release.
"The commission has prepared an exciting lineup of top local and international performers who can deliver an exhilarating and memorable festival, focused on foot stomping, pulse pounding music, Bahamian culture and positive vibes. Questions and speculation over a single headliner are futile, as we cannot state any more emphatically that there will be no single headliner as a matter of principle."
Roscoe Dames, BNFC CEO, added that the commission experienced a huge success last year with the concert and warned Bahamians that if they attend this year's show they won't be able to keep still.
"This is a party and we want everyone to fall in love with what we have to offer. We know that Bahamians and visitors alike will be jumping, stomping, shouting and screaming come May 5. And the popularity of the event will grow because we will ensure people have an amazing time," he said.
According to officials, "the down home flavours" of Bahamian sounds will be mixed with a Caribbean fusion of soca, reggae and Latin vibes during three nights of non-stop music.
Regional soca artists Ricardo Drue, Kerwin Du Bois, Farmer Nappy, Rupee, Fadda Fox, Patrice Roberts, Skinny Fabulous, Bunji Garlin and Lyrical will hit the stage during the three-day festival.
Bahamian performers including Elon Moxey, the Blue Band Connection, Willis and the Illest, Veronica Bishop, Ira Storr, Funky D and Puzzle will also perform.
In Grand Bahama, where the carnvial kicks off on April 15 to 17, Bahamian top performers Stileet, DMac, Geno D, Jay Mitchell, Julien Believe, Visage and Ronnie Butler will be joined by international acts Fadda Fox, Shurwayne Winchester, Olatunji, the press release said.
Last week, multiple officials confirmed to The Tribune that this year's Bahamas Junkanoo Carnival will not feature a headline act and that it would strongly feature Bahamian artists.
Robert Sands, commissioner and chairman of the marketing committee for carnival, predicted that more tourists would attend this year's event compared to last year.
At the time, he said the lack of a headliner won't affect the way the event will be received, arguing that marketing of the festival has improved to such a degree that more visitors will book hotels this year than did last year.
Mr Major and Tourism Minister Obie Wilchcombe both suggested last year that a failure to secure a headline act well before the start of the 2015 festival hindered marketing efforts while possibly preventing the event from attracting more tourists.
Junkanoo Carnival will kick off in Grand Bahama next weekend.