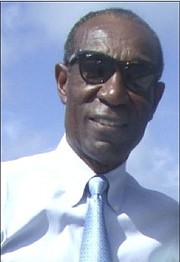 CEO and President of the FML Group of Companies Craig Flowers yesterday said reports that he and other web shop operators are trying to shut down the new Quick Draw game launched by rival Island Luck are not true.
Mr Flowers, in a statement released yesterday, also said web shop operators do not think that Island Luck is operating a lottery with its new three-ball game, but has simply expanded upon what the industry has done for years.
The claims of a rift were published in a local tabloid last week.
"I would like to unequivocally deny several erroneous assertions that were recently contained in one of the Nassau tabloids. First, there is absolutely no truth whatsoever that I met with other web shop operators to prevent Island Luck from operating a three-ball game which has been described as a lottery," Mr Flowers said.
"Secondly, it is totally erroneous that we met with attorneys to file a lawsuit against Island Luck in connection with this matter. Third, we do not agree with the press report that Island Luck is operating a lottery. Island Luck is simply doing what other web shops have done for many years, with one major variation.
"Island Luck proposes to throw its own three-ball games, whereas all of the other web shops have relied on the three-balls thrown by gaming industry regulators in New York, Chicago or other major United States cities.
"We believe that the independent selection of three-balls is far superior to web shops throwing their own balls because the independent selection system provides greater integrity and transparency to the selection process and provides gaming participants with greater confidence in the outcome of the number selection process.


"The public should understand that there is a major difference between a three-ball game and a lottery. In a three-ball game, any number from zero to nine can be selected in determining the winning number. The same number can be drawn three consecutive times. For example, a winning combination can be 111, 999 or any combination of any three numbers.

"In a lottery however, more balls are introduced into the process, and once a number is drawn, that number is removed from the being allowed to be drawn a second time. Hence the same number can only appear once in the winning combination. "We also take issue with the question about whether the gaming regulators in the Bahamas can properly monitor the gaming industry. The web shop operators are extremely confident that the Gaming Board is fully capable of doing so in an effective and efficient manner."
Nearly two weeks ago, Island Luck launched the new game, which was being marketed as a lottery. Some questioned if the company had received the proper approval from the Gaming Board.
Last week, Democratic National Alliance Leader Branville McCartney raised concerns over whether the government was capable of properly monitoring the gaming industry. He also asked if Island Luck got authorisation to run what was perceived as a lottery.
In response, the Gaming Board stressed that Island Luck's game is not a national lottery, and is categorised as a "numbers game" consistent with the law.
Mr Bastian has also said it is "obvious" the new service is in compliance with the Gaming Act.