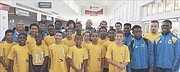 THE Bahamas' 30 member strong water polo team concluded three days of competition this weekend at the 2016 CARIFTA Water Polo championships in Trinidad & Tobago.
The Bahamas competed against Barbados, Bonaire, Curacao and the host country Trinidad and Tobago in the under-14, under-16 and under-19 categories.
Enjoying success in the round robin phase of the championships against Bonaire, Curacao and Barbados in all categories, The Bahamas came up short against the host country, setting the stage for a Bahamas vs. Trinidad and Tobago duel in all categories in the gold-medal round.
The Bahamas U-14 team started strong, building a lead of 7:3 by halftime but in the end Trinidad was able to edge out the Bahamian team 10:9 in a nail biter for the gold; The Bahamas settled for the silver medal.
Our U-16 team faced a bigger, stronger and more experienced Trinidad team with a deep bench. The Bahamas again came up short, losing by a score of 8:23 and settling for a second silver medal.
The U-19 was the most competitive age group and the games more intense than the younger age groups.
Our U-19 team came off a spirited and sometimes contentious 20:9 semi-final win over Barbados.
The gold-medal game against Trinidad however was not competitive with our players finding their game and hitting their stride late in the second half.
It was a little too late and the U-19 team fell to Trinidad by a score of 5:17 for a third silver medal.
By all accounts, all three age groups exceeded their expectations and proved that The Bahamas is capable of competing with the best in the Caribbean in water polo.
The results of the 2016 championships have strengthened the team's resolve to secure gold in 2017.
The water polo team is scheduled to return to Nassau 4:30pm today when a press conference is scheduled at the Lynden Pindling International Airport.