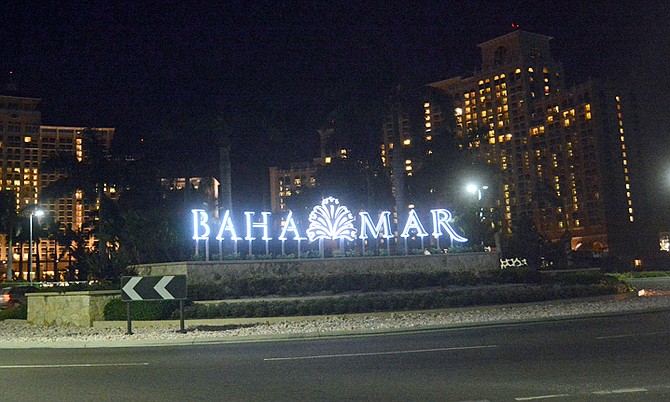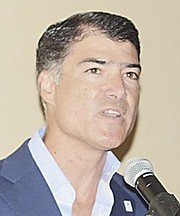 By RASHAD ROLLE
Tribune Staff Reporter
rrolle@tribunemedia.net
IN a letter sent yesterday, Baha Mar developer Sarkis Izmirlian asked the president of the China Exim Bank to accept his offer to complete and open the stalled resort, promising to rehire Bahamian employees while ensuring that the bank does not accept a discount on its debt.
Mr Izmirlian's offer would also ensure that unsecured creditors, many who are "suffering in the Bahamas," would be paid.
The letter was a follow-up to the offer he made to the bank on January 11, to which he said he received no response.
The terms of the offer have not been publicly disclosed.
Mr Izmirlian sent yesterday's letter following what he called a "positive meeting" with Prime Minister Perry Christie last week.
"Our goal in structuring the offer was to make sure that Exim would not be required to take a discount, or 'haircut,' on its debt which we have been told repeatedly is an important goal of the bank," he wrote.
"Our offer stands, and we are prepared to invest the further funds necessary to open Baha Mar. Last Friday, I met with Prime Minister Christie, and I reiterated my interest to make Baha Mar a successful reality, including addressing the needs of all the creditors. With our offer, there is no reason to allow the property to continue to linger, to become further distressed, to incur further layoffs of capable team members needed to open Baha Mar, and to delay the re-employment of so many well trained Bahamians."
A formal sale process for the $3.5 billion project began last month, when Baha Mar's court appointed receivers hired a Canadian real estate firm to market the project to potential buyers.
Mr Izmirlian dismissed that sale process as "opaque, fraught with obstacles and irregularities," and one "not designed to maximise value for all."
"There is great concern that serious and experienced bidders are being driven away by the process," he wrote. "I don't believe that is the goal, nor the moral standard that you have established for the bank and therefore offer again for my team to meet with you."
In a press statement about his offer, Mr Izmirlian stressed that no other potential owner has the same goals as his team does for Baha Mar - nor the expertise and commitment to move the project forward.
"It is unfortunate what has happened to Baha Mar these many months, but all of this is correctable," Mr Izmirlian said. "We are confident our offer is the right solution. We know we can make Baha Mar successful. We want all creditors' economic interests to be addressed fairly. We want former Baha Mar employees to be able to be back at work.
"While we will continue to fight the ill-advised winding up/liquidation through the courts, following a positive meeting last week with Prime Minister Perry Christie, we hope to work with him towards our shared goal of opening Baha Mar rapidly and successfully for the benefit of all Bahamians, especially our highly trained Baha Mar team members.

"We are prepared to move forward immediately with Exim Bank on our offer. Time is of the essence," he stressed.
Best option
When contacted for reaction, opposition Deputy Leader Peter Turnquest said that of all possible buyers, the developer would be in the best position to complete the project, given his familiarity with what remains outstanding and his relationships with local and international parties relevant to the project.
He noted that relationship building between Mr Izmirlian and the EXIM Bank would be important, given the complicated relationship they have had during the very public debacle facing Baha Mar in the last year.
"Hopefully the government understands and appreciates the complexity of this issue," Mr Turnquest said.
He added that after being "disappointed with any number of alternatives," Mr Christie may now be recognising that Mr Izmirlian is best positioned to complete the project.
Nonetheless, the Canadian-headquartered firm Colliers International was hired last month to resolve the ownership issue Baha Mar faces through a formal process.
The project is said to be 97 per cent complete though Mr Christie has said that the cost of completing the construction of the project has risen to $600 million.
Bidders are required to show "their financial capability and company background," plus proof of funding, audited financial statements and industry expertise.
Bidders must then pay $50,000 fee to ensure access to an electronic data room where due diligence data is stored. The fee is refundable if the process is terminated before a bidder is selected.
Bidders are also required to sign a non-disclosure agreement (NDA), preventing them from contacting or communicating with "any current or former directors, officers, employees, consultants, advisers, bankers, customers, creditors, suppliers or representatives of the group, or representatives, officers directors of employees of CCA Bahamas, in connection with the sale without the receiver-managers' written consent."
The Supreme Court placed Baha Mar into receivership last year at the request of the Exim Bank.