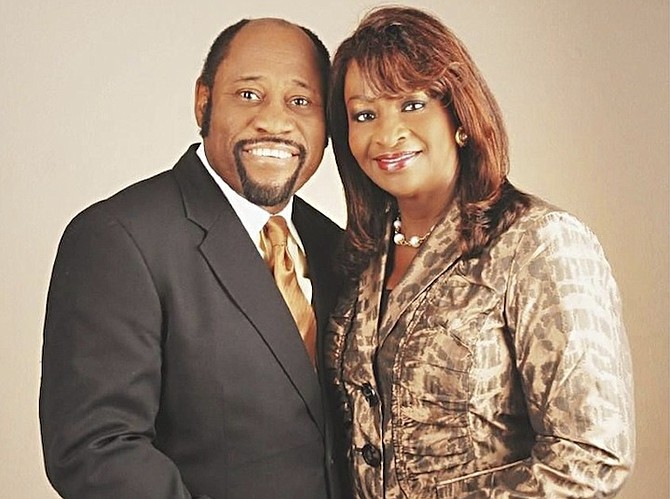 By DENISE MAYCOCK
Tribune Freeport Reporter
dmaycock@tribunemedia.net
THE Global Unity Leadership Conference in Grand Bahama this week will feature a special tribute to the late Dr Myles Munroe as well as number of international speakers, including well-known boardroom consultant Larry Cabaldon of California.
The conference, under the theme of 'Unifying the World Through Leadership Principles', starts today and runs to Saturday at the Pelican Bay Resort. Mr Cabaldon, founder of Boardroom Performance Group, will share his knowledge of successful corporate governance and link it with godly principles.
Mr Cabaldon, who is also the author of 'God in the Boardroom', has revived banks, public companies, government commissions, private businesses and not for profit boards.
"We are really excited about coming here, and we really feel strongly that this approach will help Grand Bahama as there are issues in the economy and things going on that need to be transformed," he said.
Other conference speakers are Kevin Seymour, president of the Grand Bahama Chamber of Commerce; Patricia Cabaldon, a retiree of Boeing who was manager of Quality and winner of the Malcolm Baldridge National Quality Award; Dr Larry Taylor, founder of Creighton Group, who is an expert in international corporate governance; Brad Dacus, president and founder of Pacific Justice Institute, a legal group that defends religious freedoms; and Angela Pipersburgh and her husband Paul, of the Kingdom Chamber of Commerce in New Jersey who worked with Dr Munroe - who died in a plane crash in 2014 - for number of years.
The Kingdom Chamber of Commerce helps build businesses with biblical principles, and creates an environment of opportunities for believers who share Kingdom principles, values and beliefs.
Mr Cabaldon said the main objective of the Global Unity Conference is working together and collaborating with government officials, pastors, businesses and regular people in achieving major results.

"We are offering highly experiential experience which involves participation from the audience and we will focus on personal leadership, creating a relationship with God, your family, business, and then we will go into more of business corporate principles with mock boards, and on the last day a mock community meeting where there will be interactive role playing - the whole idea is to bring people together using some of principles I learned from corporate governance and world class leadership, and the kingdom teachings from Dr Myles Munroe," he said.

Pastor Eddie Victor said that participants can expect to experience ideas and information on how they can transform the community, Grand Bahama and the country.
"There is going to be significant principles that will be shared that will help us to make the right decision and transform our society," he said.
The sessions starts at 8am Thursday and Friday until 4pm, and at 8am to 1pm on Saturday.