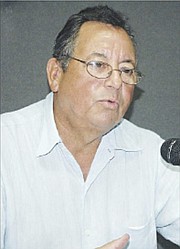 By KHRISNA VIRGIL
Tribune Staff Reporter
kvirgil@tribunemedia.net
FORMER Cabinet minister George Smith yesterday said former Court of Appeal President Dame Joan Sawyer's recent comments branding the upcoming June 7 referendum "a waste of time" were "disappointing" and signalled that she is "absolutely mistaken" on the needed constitutional changes.
Her statements, Mr Smith said, may be a "haunting" example of how thousands of Bahamians view the impending referendum.
While Mr Smith said he will not attribute any motives to her "damaging" comments, he told The Tribune that Bahamians should question the motives of other groups in this country that he feels are intentionally attempting to confuse the electorate on what the four constitutional amendments aim to do.
Mr Smith - a strong advocate for the success of the referendum - said Bahamian women, particularly mothers deserve the changes, as "there is not a more noble profession anywhere in the world."
"She (Dame Joan) and I are both Exumians and I have very special spot in my heart for all Exumians," Mr Smith said yesterday when he was contacted.
"But I think she is absolutely mistaken and it is disappointing that a woman of her judicial acclaim and personal accomplishments, having served in the Attorney General's Office and later becoming chief justice and president of the Court of Appeal would make such a damaging statement and said she didn't read the bills. It's unfortunate.
"I will not attribute to her any motives beyond maybe she just didn't think about it. But I do believe there are people and spiritual leaders that are deliberately confusing the public. There are some groups of men out there who believe that women are inferior, you know the misogynists. Then there are others who want to confuse the public that the gay rights movement is behind this.
"It is unfortunate and dishonest."
Dame Joan served as chief justice from 1996 to 2001. That same year she was appointed president of the Court of Appeal, a post she held until she retired in 2010.
She has attracted fierce criticism over her comments from both sides of the political divide.
On Tuesday, Long Island MP Loretta Butler-Turner questioned Dame Joan's motives.
Mrs Butler-Turner said what "bothered" her the most about Dame Joan's comments, was the former chief justice's declaration that if she did vote, she would vote no, despite not reading any of the proposed questions.
"Dame Joan is misleading the electorate," Mrs Butler Turner said.
"This is about equality for men and women where they are not able to pass citizenship. This is about equality for our boys and girls. What really bothered me and most Bahamians is the fact that persons like Dame Joan Sawyer have reached the pinnacle of their legal career, she retired as the chief justice and the fact that she was able to make such strong pronouncements in the absence of facts, really gives me reason to question the motive.
"I would think in the regard that I hold her, I would want to know before she speaks to an issue as critical as this, she would be speaking from a position on knowledge, it seems that she has put these statements out there and by her own admission has not read or studied them."
Attorney General Allyson Maynard-Gibson has also responded to Dame Joan's comments.
Mrs Maynard-Gibson, in a statement released Monday night, said the main purpose of the referendum is to ensure that "equality under our laws be enshrined in our nation's most important legal document."