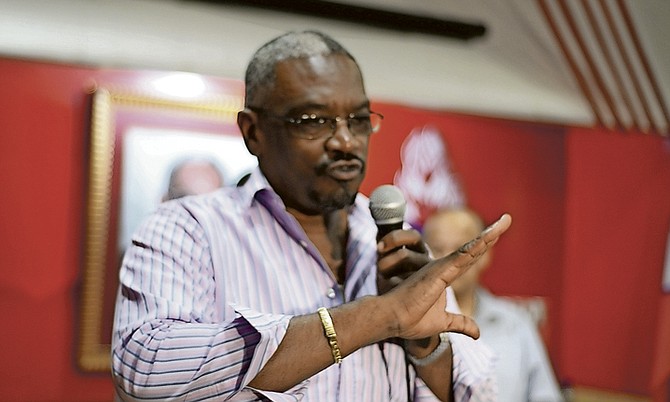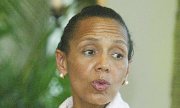 By NICO SCAVELLA
Tribune Staff Reporter
nscavella@tribunemedia.net
THE call from FNM Leader Dr Hubert Minnis for Attorney General Allyson Maynard-Gibson to prosecute members of Parliament for violating the Public Disclosure Act has not come "from the proper people from whom it should commence".
Responding to questions yesterday, Mrs Maynard-Gibson said despite Dr Minnis' call to punish those who have not yet filed their financial disclosures, there is a proper process that must be followed.
This comes after The Tribune's exclusive revelation that more than ten members of Parliament - by their own admission - failed to file financial declarations by March 1 as required by the Public Disclosure Act.
On Sunday, Public Disclosure Commission (PDC) Chairman Myles Laroda was adamant that the decision to prosecute someone for breaching the act is left up to the discretion of the Office of the Attorney General.
When asked for a response yesterday, Mrs Maynard-Gibson said: "This matter is governed by law, there's a process. I started this interview by speaking and celebrating the rule of law in the Bahamas, and there's a process by which all of these things happen. I can say that this process has not commenced from the proper people from whom it should commence."
Mrs Maynard-Gibson has said she has filed her financial information.
However Prime Minister Perry Christie, when interviewed last week, would not say whether or not he had filed his annual disclosures. Deputy Prime Minister Philip "Brave" Davis last week said he was unsure, but added that he would check the status of his disclosures with his accountant.
Foreign Affairs and Immigration Minister Fred Mitchell told The Tribune that while he had asked for his deadline for the 2015 disclosure period to be extended to next month, all previous years had been filed.
State Finance Minister Michael Halkitis said last week that his documents "were in the mail." Central and South Eleuthera MP Damian Gomez along with Environment Minister Kenred Dorsett said last week they were both awaiting documents from their respective banks in order to submit the financial declarations. Mr Dorsett has since said he has filed his documents.
Tall Pines MP Leslie Miller also missed the March 1 deadline, but said that he filed his disclosures this week.
State Minister for Investments Khaalis Rolle insisted that his information was being finalised and would be filed in the coming week. Youth, Sports and Culture Minister Dr Danny Johnson said he was just waiting for a notary to sign off on his documents.
On Monday, Marco City MP Greg Moss, Mt Moriah MP Arnold Forbes and Central and South Andros MP Picewell Forbes told The Tribune they intended to file in the coming days.
Another elected official, South Beach MP Cleola Hamilton turned and walked away, refusing to answer questions about the status of her financial declarations when she was approached outside of the House of Assembly earlier this week.
Two FNM MPs, Richard Lightbourn and Dr Andre Rollins, last week revealed to The Tribune that they had not yet filed, however, Dr Rollins promised the matter would be dealt with this week, while Mr Lightbourn said his was "being handled."
According to the Public Disclosure Act, a summary of the declarations shall be published in a gazette and any person who does not comply with the law is liable to a fine not exceeding $10,000 or imprisonment of not more than two years.
If a parliamentarian does not disclose property owned in the Bahamas, the land can be seized and forfeited to the government.

The declarations have not been made public since 2012, an election year.