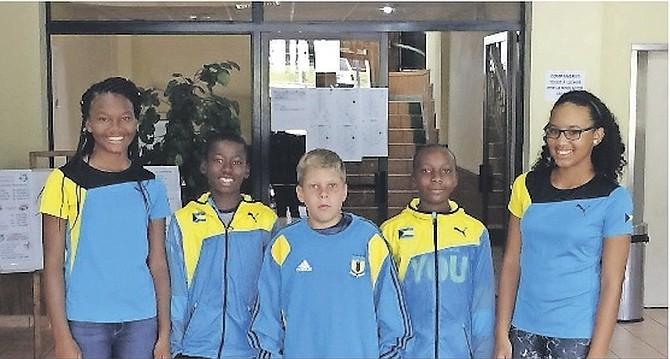 OUR very own junior tennis players are competing in the 14 and under Junior International Championships (JITIC) in El Salvador.
The JITIC competition has the top juniors in the Caribbean and Latin America competing for the title of the 'best of the best' in junior tennis in the region.
The team consists of Emma Weech and Donesha Gibson for the girls and Kofi Bowe, Anthony Burrows Jr and Ryan Fox for the boys.

In qualifying rounds there is a round robin format to move on to the main draw.

In the first day of qualifying rounds Kofi Bowe won in three sets over Benjamin Jones of Bermuda 6-2, 2-6 and 10-4 in the tiebreak. This win already qualifies Kofi to move on to the main draw play. Kofi Bowe will play No.2 seed Aiden Carter today as round robin draws to a close today.

Ryan Fox and Anthony Burrows, who are both debuting in this competition, both lost their two matches.

Ryan Fox played well but lost against 5th seeded Jonathan Hernandez of Guatemala 6-0, 6-3 and Samuel Dickinson of the Dominican Republic 6-0, 6-3.

Anthony Burrows Jr, the youngest team member, also played well but lost 6-3, 6-4 to Federico Balanos of El Salvador and 6-0, 6-1 to Carlos Solares of Guatemala.
Anthony plays one more round of round robin play against John Luis of Puerto Rico. Ryan and Anthony will have an opportunity to display their talent in consolation matchplay.

Kofi Bowe, who recently debuted for the Under-16, will now advance to main draw matchplay for Under-14. Round robin play continued yesterday and main draw and consolation begins today.
On the girls' side Emma Weech lost her first match 6-1, 6-0 against 5th seeded Emilia Rios of Guatemala. She also played well against Adrianna Hiraldo of Puerto Rico but lost 6-3, 6-4. Emma will continue on in consolation matchplay.

Donesha Gibson also lost in a very competitive match against Lee Assang of Trinidad and Tobago 6-2, 3-6 and 7-10 in the tie break. Donesha will play 11th seed Sarinah Maduro from Curacao for the opportunity to advance to main draw.
"The Bahamas Lawn Tennis Association recognises the developing talent of our Under-14 team of Emma, Donesha, Kofi, Ryan and Anthony. We have some new faces to the international arena in Ryan Fox and Anthony Burrows Jr, which shows that the future is bright for our tennis players. Emma and Donesha continue to play at a high level and we expect them to do well in consolation play. Kofi Bowe advances to main draw and he is a very focused and talented tennis player. We wish all of them well as they continue on in main draw and consolation matchplay," said a release.