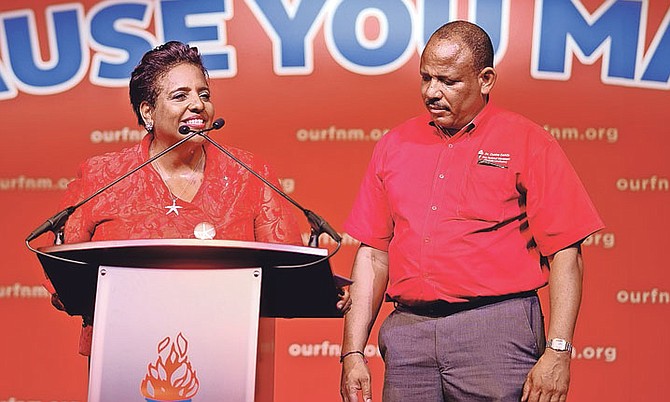 By SANCHESKA BROWN
Tribune Staff Reporter
sbrown@tribunemedia.net
PROGRESSIVE Liberal Party Chairman Bradley Roberts declared yesterday that the Free National Movement was not ready to govern, branding Long Island MP Loretta Butler Turner and Senator Dr Duane Sands as "cowards" for quitting the convention leadership race hours before delegates cast their votes.
In an address to the PLP's women's branch, Mr Roberts called the FNM's convention "one big joke" and said the opposition party is delusional if they think it was anything other than a circus.
"Bombastic Loretta Butler Turner and serial loser Dr Duane Sands cowardly surrendered and admitted defeat at 2 am before the first ballot was cast. Butler-Turner accused (Dr Hubert) Minnis of criminal behaviour and organized corruption that she would not 'validate'," Mr Roberts said.
"Hours later she would hold a press conference to say that notwithstanding the fact that Dr Minnis rigged the entire electoral process, she will work with him in the future for the sake of party unity. Really? Where is Loretta Butler Turner's sense of self respect, honour and integrity? There is no unity in the FNM. "
The Free National Movement held its highly-anticipated national convention last week. The event was expected to put an end to bitter-infighting and kick start the party's general election campaign with a united image. However, the unity theme was marred by accusations of criminal behaviour and corruption lodged by leadership contender Mrs Butler-Turner against incumbent leader Dr Hubert Minnis. Notwithstanding Mrs Butler-Turner's sudden withdrawal from the race, the convention was mired in controversy following contentious comments made by Montagu MP Richard Lightbourn who supported the sterilization of unwed mothers of two children.
Mr Lightbourn's comments have since gone viral and were picked up by regional and international news agencies. His remarks incited strong rebuke both from his own party, women's rights activists and parliamentarians.
Mr Roberts said the only thing the people saw when they watched the "show" was a "poorly organized and executed convention" with accusations of organized corruption and criminal conduct, which "caused a bitter row among delegates."
"Peter Turnquest cussed out Butler-Turner from the podium while Ingraham was lurking in the shadows seeking to use his minions to selfishly break up the entire party so he could emerge and appear to be the party's saviour," Mr Roberts claimed..
"Mr Lighbourn proposed violating women's reproductive rights, a proposal no one agreed with. Renward Wells failed to mention the good people of Bamboo Town in his address and many of the FNM members of parliament refused to attend the final night of convention. He said: "If this is the way the FNM organize themselves as a party with all of this infighting and distrust, how can Bahamians trust them to organize a government and chart the way forward for an entire country?
"The FNM is not ready for primetime and not ready to govern."
Mr Roberts called all PLP's to be disciplined and focused on the task ahead.
He said the FNM's convention was indeed "a teachable moment in leadership".