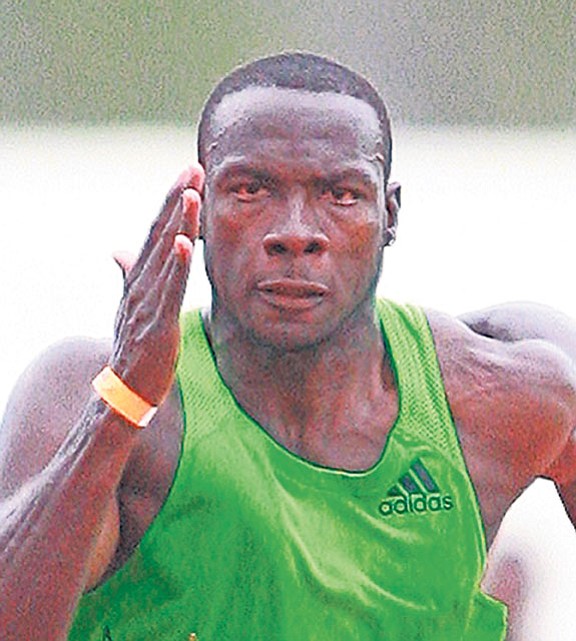 By RENALDO DORSETT
Sports Reporter
rdorsett@tribunemedia.net
YET another Bahamian sporting icon took to social media to voice his displeasure at a perceived lack of recognition by the Bahamian government.
As the local sporting community continued its recent trend of honouring sporting legends with portraits placed on the "Walk of Fame," former world class sprinter Derrick Atkins called his absence "shameful."
"I who has put the Bahamas on the map in the 100m can't even get a thank you let alone my pic up. I am the first, not the second, the first Bahamian to run under 10 secs in the 100m, World silver medallist in the 100m, two time Olympian, U-23 Champion in the 100m and 200m, 15 time NAIA All-American and seven time national champion in college," he posted in a Facebook status update which went viral yesterday, "Y'all should be ashamed of y'all self celebrating somebody who hasn't done nothing yet typical Bahamian mentality. Y'all forget about those who have pave the way. I guess that's life for you."
Much of the public backlash toward Atkins was based on the fact that he cited New Orleans Pelicans guard Buddy Hield as someone undeserving of the honour since he is in the infancy of his professional career.
Atkins later clarified his remarks and insisted his post was not meant to be a personal attack on Buddy Hield.
"This message is to Buddy Hield. Word travel fast. My message isn't directed towards you, it is to the system that we have in the Bahamas. Much respect to you for making it to the pros and your great college career," Atkins said.
His comments came approximately a week after Waltiea Rolle, the first Bahamian to be drafted into the Women's National Basketball Association (WNBA), took to social media to express her displeasure at a lack of recognition by the Bahamian government.
Atkins, 32, is the Bahamian 100m national record holder, and the only Bahamian to run legally under 10 seconds.
The highlight of his career came in in 2007 in Osaka, Japan, where he clocked an astonishing 9.91 seconds for the Bahamas' national record and the silver medal at the IAAF World Championships behind American Tyson Gay and ahead of race favourite, Asafa Powell of Jamaica.
A graduate of both CR Walker and Dickinson State University, he represented the Bahamas at both the 2008 and 2012 Olympic Games.
In 2008, Atkins missed a spot in the final at the Beijing Olympics where he ran 10.13 for sixth in his semi-final. In 2012 in London, he ran 10.08s to finish fourth in the semi-finals but did not advance.
Atkins officially announced his retirement last June and currently serves as an assistant coach working with the sprints and relays for the Kennesaw State Owls in Kennesaw, Georgia.
He was recently inducted in the National Association of Intercollegiate Athletics (NAIA) Hall of fame for his college career, which includes three team national track and field championships, seven-time individual national champion, 15 National NAIA All-American honours, nine time DAC-10 All Conference honours and Dickinson State University male athlete of the year.
His Kennesaw State bio also indicates: "He has indoor and outdoor conference sprint records that are still standing, and he led his team to four Dakota Athletic Conference championshiPS.
"Atkins won national titles in the 100 metres in 2003, 2004 and 2005. In addition, he is an eight-time All-American in the sprints and relays. Atkins led Dickinson State to two consecutive national championships in 2004 and 2005 and to a runner-up finish in 2003."