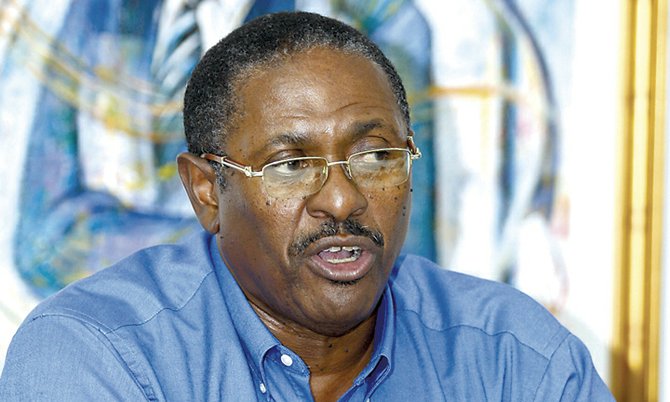 By SANCHESKA BROWN
Tribune Staff Reporter
sbrown@tribunemedia.net
PROGRESSIVE Liberal Party Chairman Bradley Roberts said the PLP's leadership race would not be "nasty like the FNM's" because both Prime Minister Perry Christie and former Attorney General Alfred Sears are "intellectuals" and "professionals".
In an interview with The Tribune, Mr Roberts said as far as he knew Mr Sears was "contemplating" running for leader of the PLP and had not made a "definitive decision". However, he said the party is "democratic" and Mr Sears has the right to run for "whatever position" he wishes.
On Sunday, Mr Sears announced his intention to challenge Mr Christie for leadership of the PLP at the governing party's national convention in November.
Mr Sears is the first to make such an intention known, ensuring that Mr Christie will face the first challenge to his post since National Security Minister Dr Bernard Nottage and attorney Paul Moss faced him in 2009 at the party's last convention.
Mr Sears pledged to run a "clean" race, one without personal attacks.
"We are a democratic organisation and all persons in good standing have a right to nominate for any position," Mr Roberts said on Monday.
"He has been the only person so far to announce their intention to run against Mr Christie to me, but I do not expect the race to be nasty because Mr Sears is not like Loretta Butler-Turner. They have different personalities. Mr Sears and Mr Christie are intellectuals and Mrs Butler-Turner is a disaster."
Mrs Butler-Turner, the Free National Movement's MP for Long Island, waged a bitter campaign against Killarney MP Dr Hubert Minnis for the party's top post, however she withdrew from the race on July 29, just hours before delegates voted at the FNM's convention.
"I am not concerned about low politics with these men, this will be a clean campaign," Mr Roberts added. "Mr Sears said he is contemplating running, as far I know, I think he is testing the waters and will make a determination once he knows whether he has the support or not. Running is one thing but winning is another."
The PLP's five-day convention is scheduled for the last week in November at the Melia Nassau Beach Resort.
Mr Sears is a respected figure in the PLP and within the legal community. He was encouraged by the PLP constituency branch of Fort Charlotte to return to frontline politics last year after members grew frustrated with their representative, Dr Andre Rollins, who has since left the PLP.
If not for the prodding of the party, it is unclear if Mr Sears would have returned to frontline politics in 2017 and therefore challenge Mr Christie.
Mr Sears was attorney general from 2002 to 2006 and minister of education from 2002 to 2007 during the first Christie administration. He also served as chairman of the Council of the College of the Bahamas between 2012 and 2016.
Mr Sears is currently the managing partner of Sears & Co, the law firm he established in 1992. He told The Tribune on Sunday that he anticipates receiving notable endorsements in the coming months.
The PLP has not held a convention since 2009, despite the party's constitutional mandate to hold one every year.