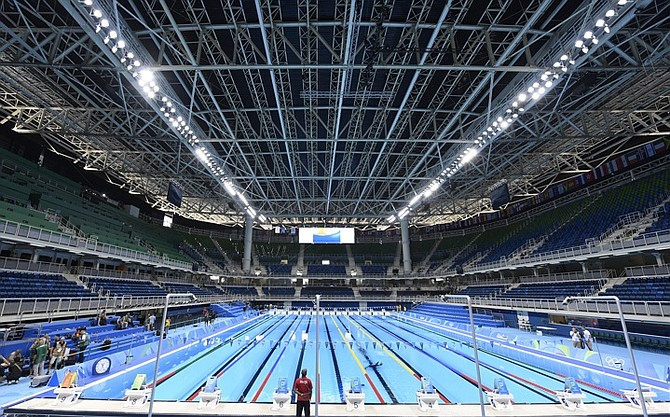 6.40pm: Brent Stubbs's full story on Arianna's race and reaction is now online HERE.
6.20pm: Arianna Vanderpool-Wallace spoke to The Tribune after her race today.
http://youtu.be/HKYg_DAvD5s
1.40pm: Arianna is already looking ahead to Friday's 50m as she thanks her teammates on this tweet:
1.00pm: A disappointing start at the Olympics for Arianna Vanderpool-Wallace as she finishes seventh in heat 12 of the 100m freestyle with a time of 54.56. She was 18th overall and missed out on a semifinal swim off by 0.06s.
Australia's Cate Campbell won the heat in 52.78, The Netherlands' Ranomi Kromowidjojo was second in 53.43 and Penny Oleksiak of Canada was third with 53.53.
More news to come . . .
9.00am: Arianna Vanderpool-Wallace will get her bid for an Olympic medal underway today, when she competes in the Women's 100m freestyle, heat 12, lane three. The event should start shortly after noon.
You can read Arianna's Olympic profile HERE
Here is Wednesday's full Olympic schedule:
all times Bahamian
Archery
Men's and Women's Individual Eliminations, 8am, 2pm
Basketball
Men
Serbia v France, 1.15pm
Australia v United States, 6pm
Venezuela v China, 9.30pm
Women
China v Spain, 11:15am
United States v Serbia, 2.30pm
Senegal v Canada, 4.45pm
Beach Volleyball
Men's and/or Women's Prelims, 9am, 2.30p.m, 8pm
Boxing
Men's 49kg, 56kg, 64kg, 81kg, 91kg Prelims, 10am, 4pm
Canoe-Kayak (Slalom)
Men's K-1 Semi-finals and Men's K-1 Finals, 12.30pm
Cycling (Road)
Women's Time Trial, 7.30am
Men's Time Trial, 9am
Diving
Men's Synchronized 3m Springboard, 3pm
Equestrian
Dressage Team Grand Prix Day 1, 9am
Fencing
Women's Foil Individual First Round, Second Round and Quarter-finals, 7.30am
Women's Foil Individual Semi-finals and Finals, 4.30pm
Men's Sabre Individual First Round, Second Round and Quarter-finals, 11.45am
Men's Sabre Individual Semi-finals and Finals, 5.30pm
Handball
Women
Brazil v Spain, 8.30am
Romania v Montenegro, 10.30am
Russia v Sweden, 1.40pm
Norway v Angola, 3.40pm
Netherlands v South Korea, 6.50pm
France v Argentina, 8.50pm
Hockey
Men
New Zealand v Brazil, 6.30pm
Britain v Australia, 7.30pm
Women
Spain v New Zealand, 9am
India v Australia, 10am
Germany v South Korea, 11.30am
Britain v Argentina, 12.30pm
United States v Japan, 4pm
China v Netherlands, 5pm
Gymnastics (Artistic)
Men's Individual All-Around Final, 3pm
Judo
Men's -90kg and Women's -70kg, 9am
Men's -90kg and Women's -70kg Finals, 2.30pm
Rugby
Men
France v Spain, 10am
South Africa v Australia, 10.30am
Kenya v Japan, 11am
New Zealand v Britain, 11.30am
Argentina v Brazil, noon
Fiji v United States, 12.30pm
Placing 9-12, 3pm, 3.30pm
Quarter-finals, 4pm, 4.30pm, 5pm, 5.30pm
Rowing
Women's Pair Semi-finals, 7.30am
Women's Lightweight Double Sculls Semi-finals, 7.50am
Men's Lightweight Double Sculls Semi-finals, 8.10am
Men's Four Semi-finals, 8.30am
Women's Eight Repechage, 8.50am
Men's Eight Repechage, 9am
Men's Quadruple Sculls B Final, 9.10am
Men's Quadruple Sculls A Final, 9.20am
Women's Quadruple Sculls A Final, 9.40am
Men's Single Sculls C-D Semi-finals, 10.40am
Women's Single Sculls C-D Semi-finals, 10.50am
Women's Lightweight Double Sculls D Final, 11am
Men's Lightweight Double Sculls D Final, 11.10am
Women's Lightweight Double Sculls C Final, 11.20am
Men's Lightweight Double Sculls C Final, 11.30am
Women's Pair C Final, 11.40am
Sailing
Men's Laser, Women's Laser Radial, Men's Finn, Men's 470, Women's 470, Mixed Nacra 17, noon
Shooting
Men's 50m Pistol Qualification, 8am
Men's Double Trap Qualification, 8am
Men's 50m Pistol Final, 11am
Men's Double Trap Final, 2pm
Soccer
Men
Algeria v Portugal, noon
Argentina v Honduras, noon
Germany v Fiji, 3pm
South Korea v Mexico, 3pm
Colombia v Nigeria, 6pm
Japan v Sweden, 6pm
Denmark v Brazil, 9pm
South Africa v Iraq, 9pm
Swimming
Women's 100m Freestyle, Men's 200m Backstroke, Women's 200m Breaststroke, Men's 200m Individual Medley and Women's 4 x 200m Freestyle Relay Prelims, noon
Men's 200m Breaststroke Final, Women's 100m Freestyle Semi-final, Men's 200m Backstroke Semi-final, Women's 200m Butterfly Final, Men's 100m Freestyle Final, Women's 200m Breaststroke Semi-final, Men's 200m Individual Medley Semi-final and Women's 4 x 200m Freestyle Relay Final, 9pm
Table Tennis
Women's Singles Semi-finals, 9am
Women's Singles Bronze Medal match, 7.30pm
Women's Singles Gold Medal match, 8.30pm
Tennis
Men's Singles Third Round, Men's Doubles Semi-finals, Women's Singles Quarter-finals, Women's Doubles Quarter-finals, Mixed Doubles First Round, 9.45am, 5.45pm
Volleyball
Women
China v Puerto Rico, 7.30am
Italy v Netherlands, 9.35am
United States v Serbia, 1pm
Russia v Cameroon, 3.05pm
South Korea v Argentina, 6.30pm
Brazil v Japan, 8.35pm
Water Polo
Men
Australia v Japan, 8am
Greece v Hungary, 9.20am
France v United States, 10.40am
Montenegro v Italy, noon
Brazil v Serbia, 6.30pm
Spain v Croatia, 7.50pm
Weightlifting
Men's 77kg Prelims, Women's 69kg Prelims, 9am
Women's 69kg Final, 2.30pm
Men's 77kg Final, 6pm