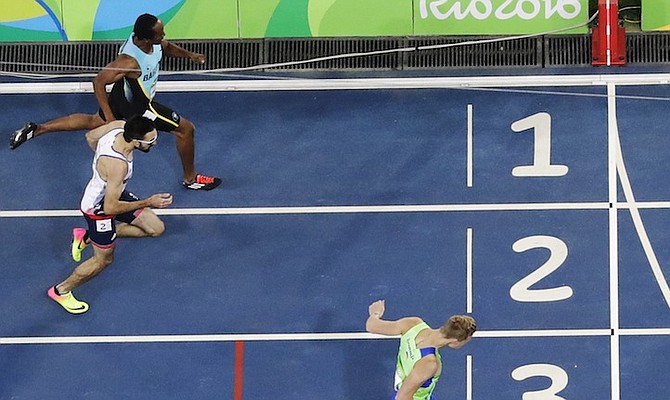 12.00AM: The full story of Friday's action is now online HERE. Just to clarify, Steven Gardiner is into the 400m semifinals. Chris Brown ran a season's best but was just short of advancing. Arianna Vanderpool-Wallace bows out in the 50m free and Ty'Nia Gaither came in fifth in the fourth of eight 100m heats in 11.56 for 39th overall.
11.15pm: A correction to earlier - Chris Brown has NOT qualified in the 400m - despite running a season's best of 45.56.
10.45pm: Arianna's time is not enough to earn a place in the final. She finishes 9th overall - missing the final by .07.
10.40pm: Arianna Vanderpool-Wallace finishes fourth in her semifinal with 24.60 - we'll have to wait to see if that's a qualifying time for the final.
10.00pm: Arianna Vanderpool-Wallace is up shortly in the women's 50m freestyle semifinals.
9.00pm: THIS HAS BEEN CORRECTED - CHRIS BROWN HAS NOT QUALIFIED - Chris Brown's time of 45.56 means he joins Steven Gardiner in qualifying – a fantastic showing from the Bahamians.
8.55pm: A fantastic run from Steven Gardiner who comes in second and qualifies with 45.24.
8.50pm: Steven Gardiner to run now in the final heat. He's in lane one.
8.33pm: A season's best for Chris Brown as he comes in fourth in 45.56 - a good time that could see him qualify.
8.28pm: Chris Brown is next up for the Bahamas - running in Heat four, lane one.
8.25pm: Fifth place for Alonzo Russell - who at one point seemed to be storming to the front, before slipping back in the final straight for a time of 46.23.
8.20pm: Heat three is up now - The Bahamas' Alonzo Russell gets the nation's track campaign going from lane four.
8.10pm: The Men's 400m Heats are underway - Alonzo Russell is first up, running in Heat 3.
5.00pm: Rower Emily Morley ended her historic Olympic appearance with a sixth place finish in the Women's Single Sculls E Final. You can read the full story HERE.
And here she is talking to Brent Stubbs about the final:
http://youtu.be/PEZdB3HHZPI
3.00pm: Chris Brown and Steven Gardiner looks ahead to tonight's event:
http://youtu.be/zMjFpkTYO1E
http://youtu.be/UHm5a2Rjj7E
2.00pm: The full story of Arianna's qualifying heat is now online HERE.
12.50pm: Arianna Vanderpool-Wallace has qualified for Friday's 50m free semifinals! She finished fourth in Heat 12 with a time of 24.77 – the 13th fastest time. Denmark's Pernille Blume won the heat in 24.23. Australia's Bronte Campbell was second in 24.45 and Sarah Sjostrom of Sweden was third in 24.66.
12.30pm: Today sees three members of Team Bahamas in action in Rio:
Shortly after 12pm, Arianna Vanderpool-Wallace will compete in the Women's 50m, heat 12, lane three. You can read a preview of the race HERE.
Then at 8:05pm ET, Steven Gardiner, Chris Brown and Alonzo Russell take part in the men's 400m preliminaries as the track competition gets underway. You can read a preview of that event HERE.
And at 9:40pm ET, Ty'Nia Gaither takes part in the Women's 100m heats.